Our Guestrooms
Our guest house has nine high-quality and individually furnished rooms in the four categories "Junior", "Executive", "Superior" and "Deluxe", from which you can choose at the time of booking.
Gain a few impressions of our premises here.
Equipment
Kind and Queen sized box spring beds by Admiral
Bang & Olufsen Soundsysteme
Rain shower
Free of charge
WLAN
Nespresso coffee
Water
TV
Working place
All rooms have either queen of kind sized box spring beds from Admiral, Bang & Olufsen Soundsystems, sockets with USB plugs on the bed and further furniture design classics that we found at artenreich.design.de in Aachen. I order for you to sleep in peace, all rooms are equipped with curtains for darkening. Enjoy Gerolsteiner water free of charge during your stay and each room is equipped with its own Nespresso coffee machine, so that you can start the day well. Level rain showers and Rituals cosmetics make your stay in the bathroom a special pleasure. Rooms 1 to 4 are on the first floor, rooms 5 to 8 on the second and number 9 is the complete attic
Junior Suite
Room 1 – a junior suite – single room – with a queen size bed (1.4m), individual chosen music system, TV and working area. It is small and fine, but has the most impressive shower with a large rain head at a height of approx. 3.5 metres.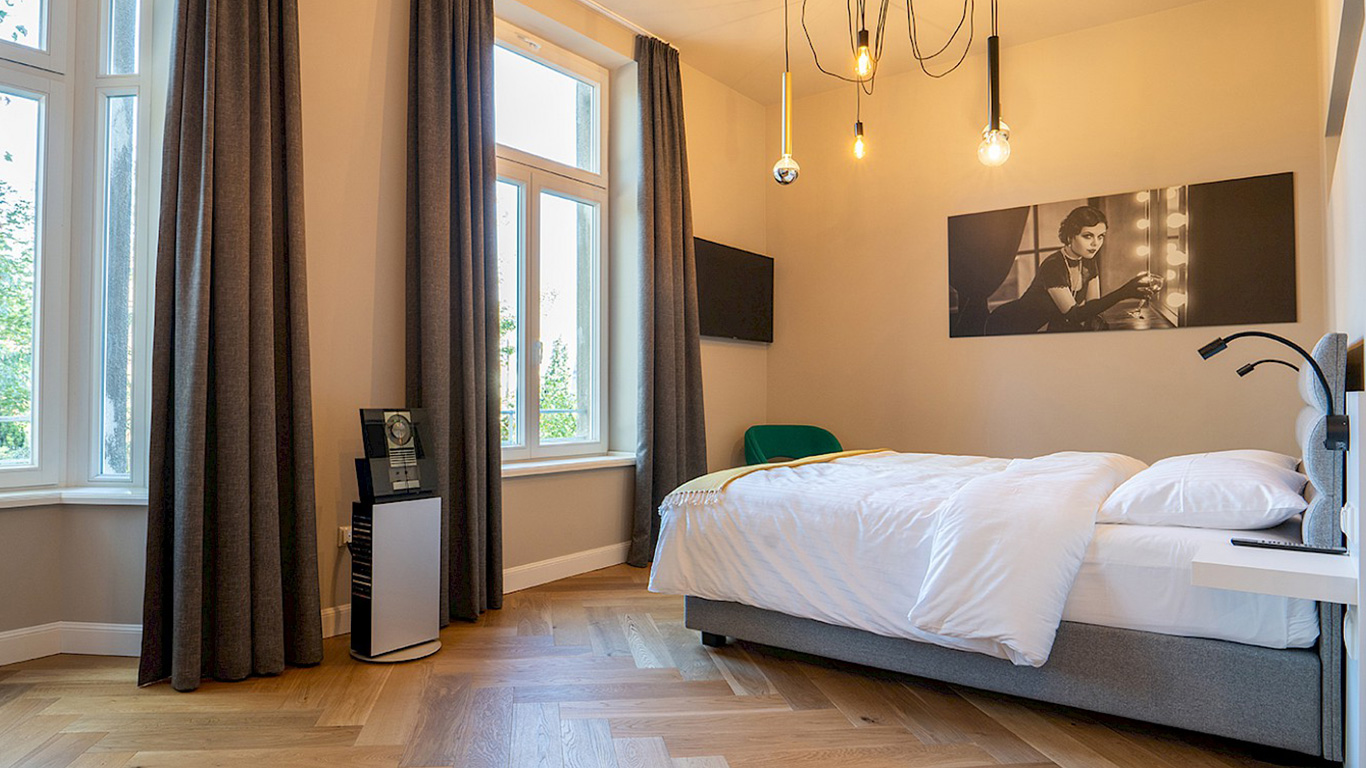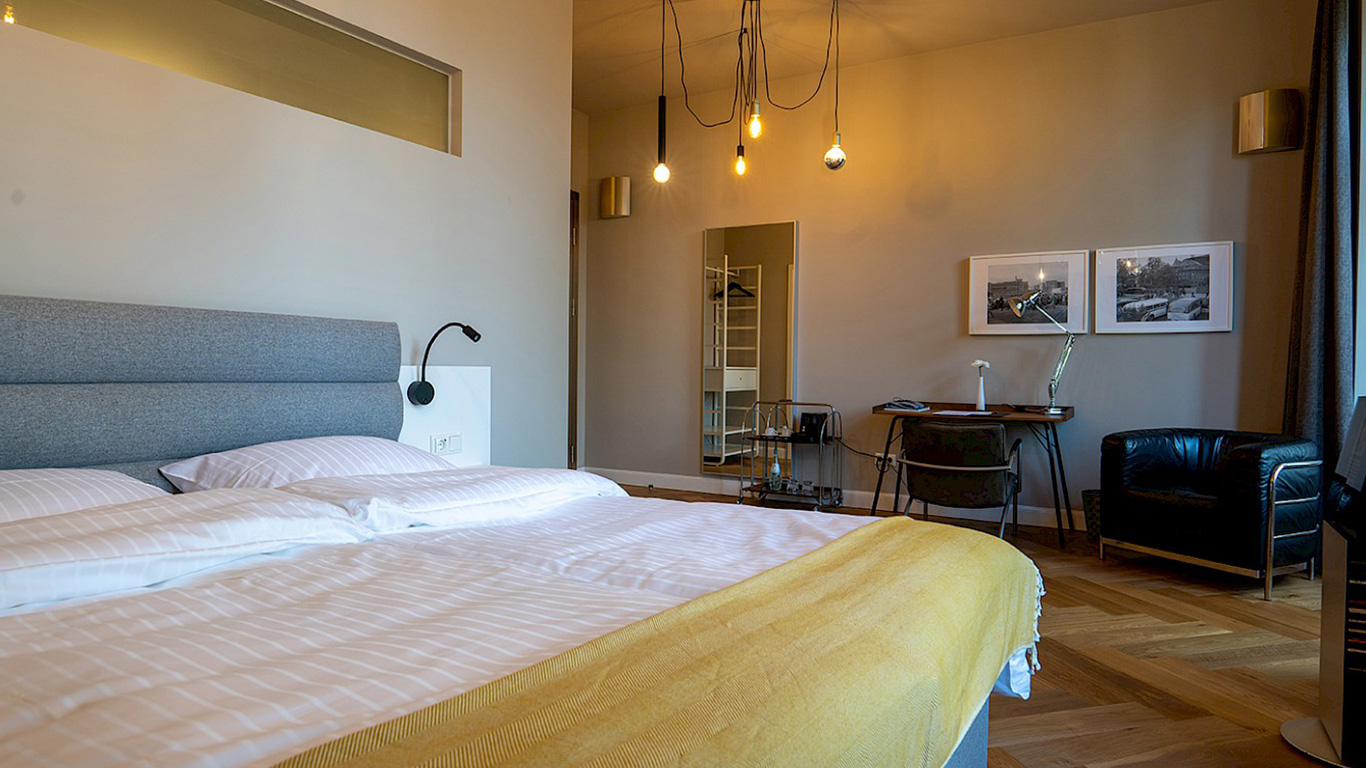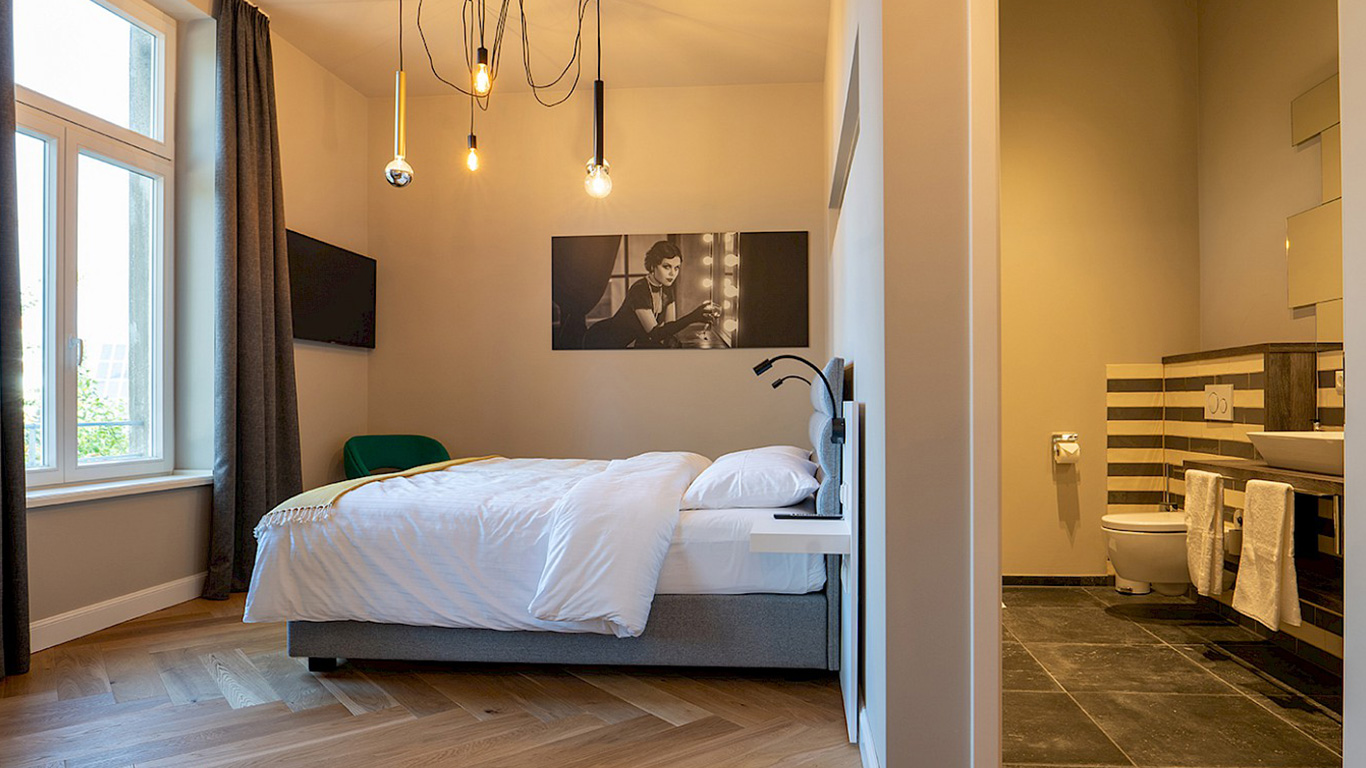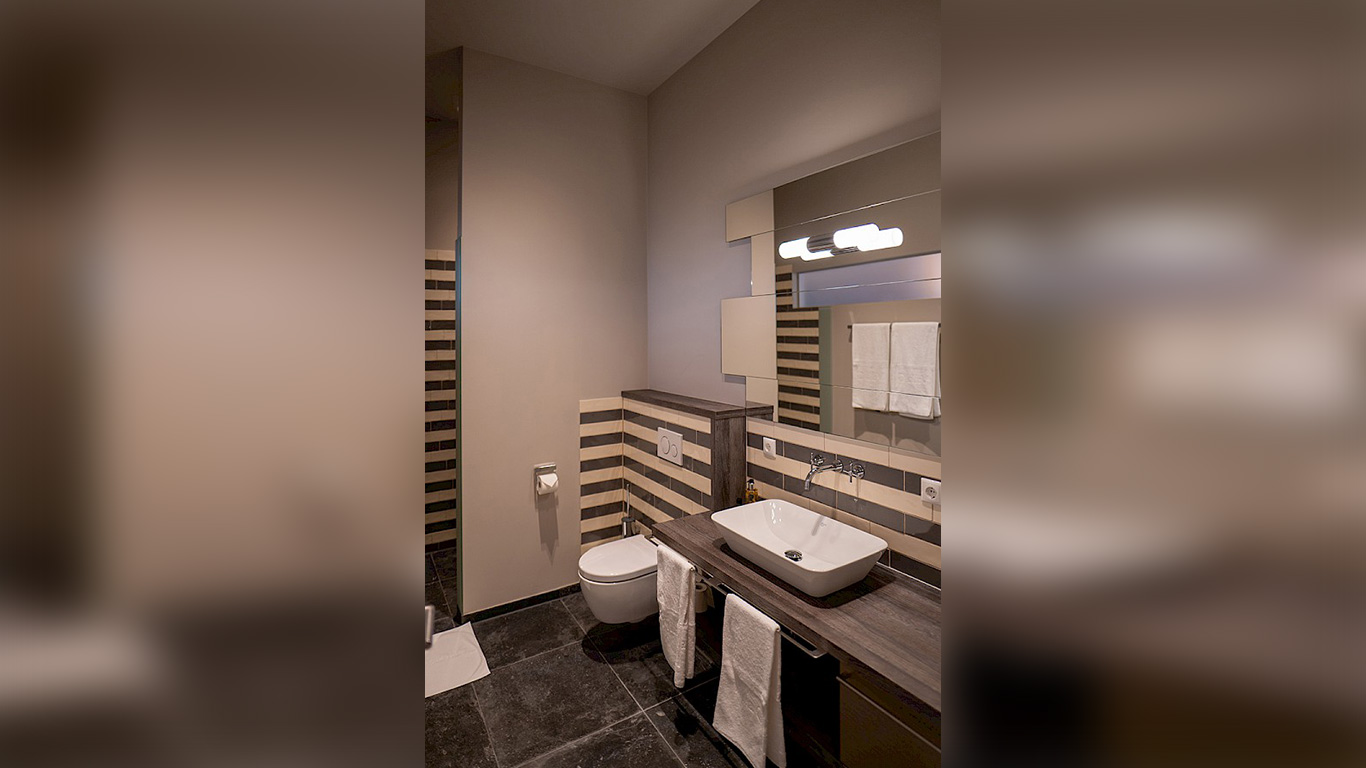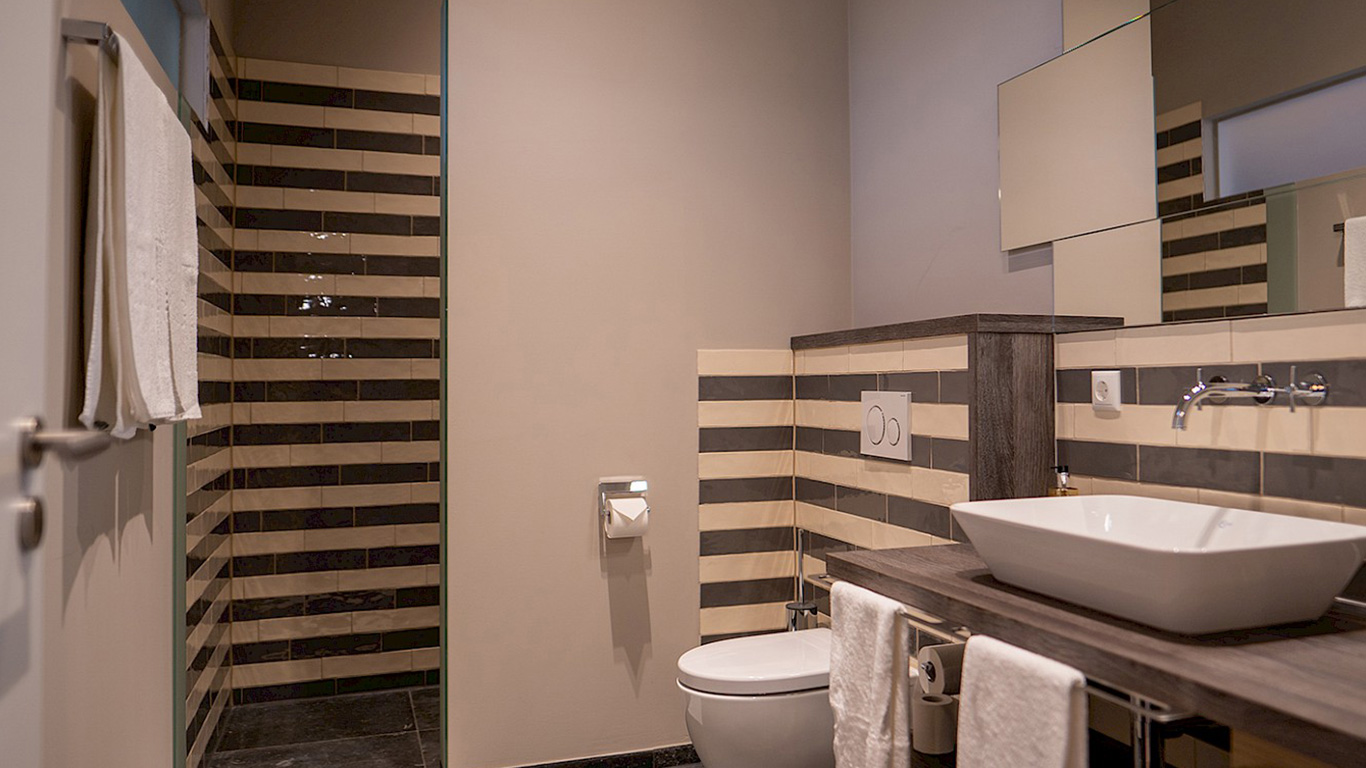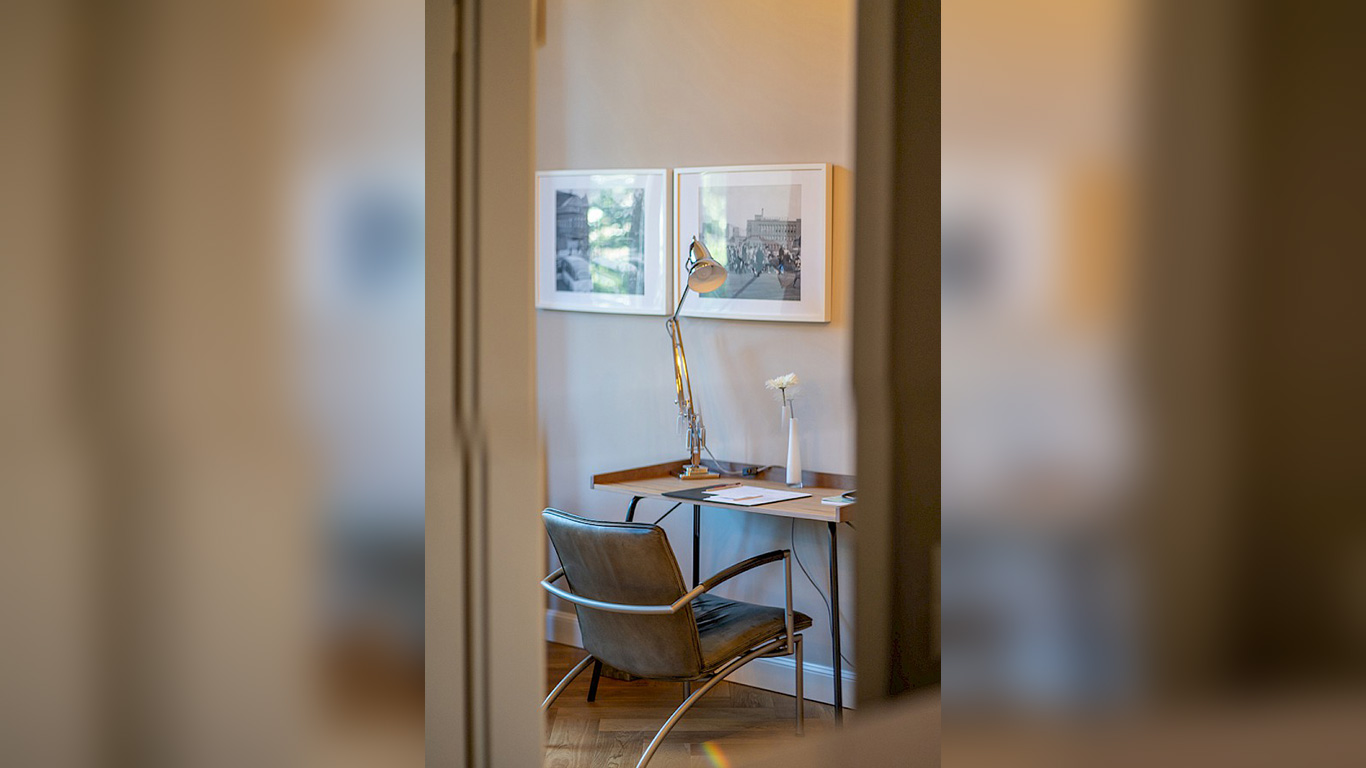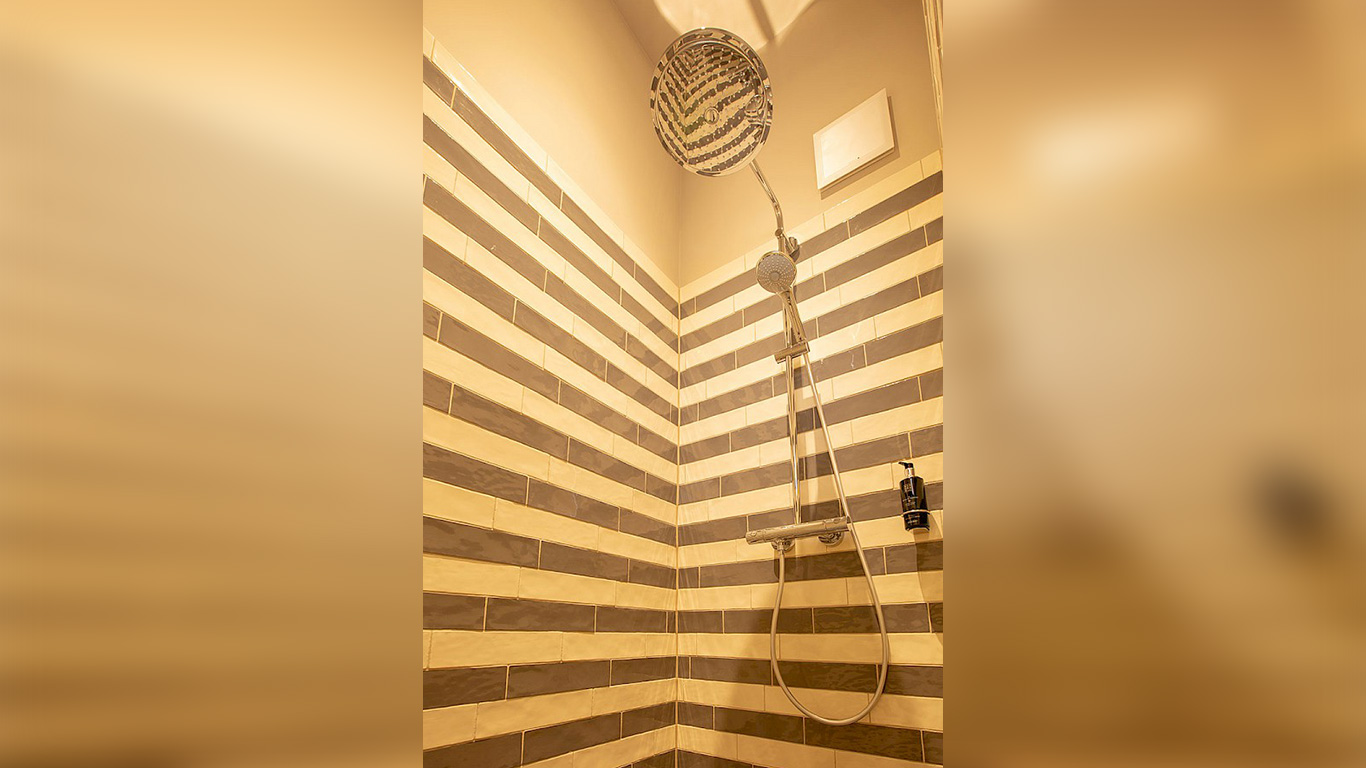 Deluxe Suite
Room 2 – a deluxe suite – a double room with king size bed and bay window in which a comfortable leather armchair invites you to stay. The bathroom gets daylight through a narrow window in the room, although there is no window to the outside. The Beo Sound Overture gives you the opportunity to listen to CDs – a small selection is available.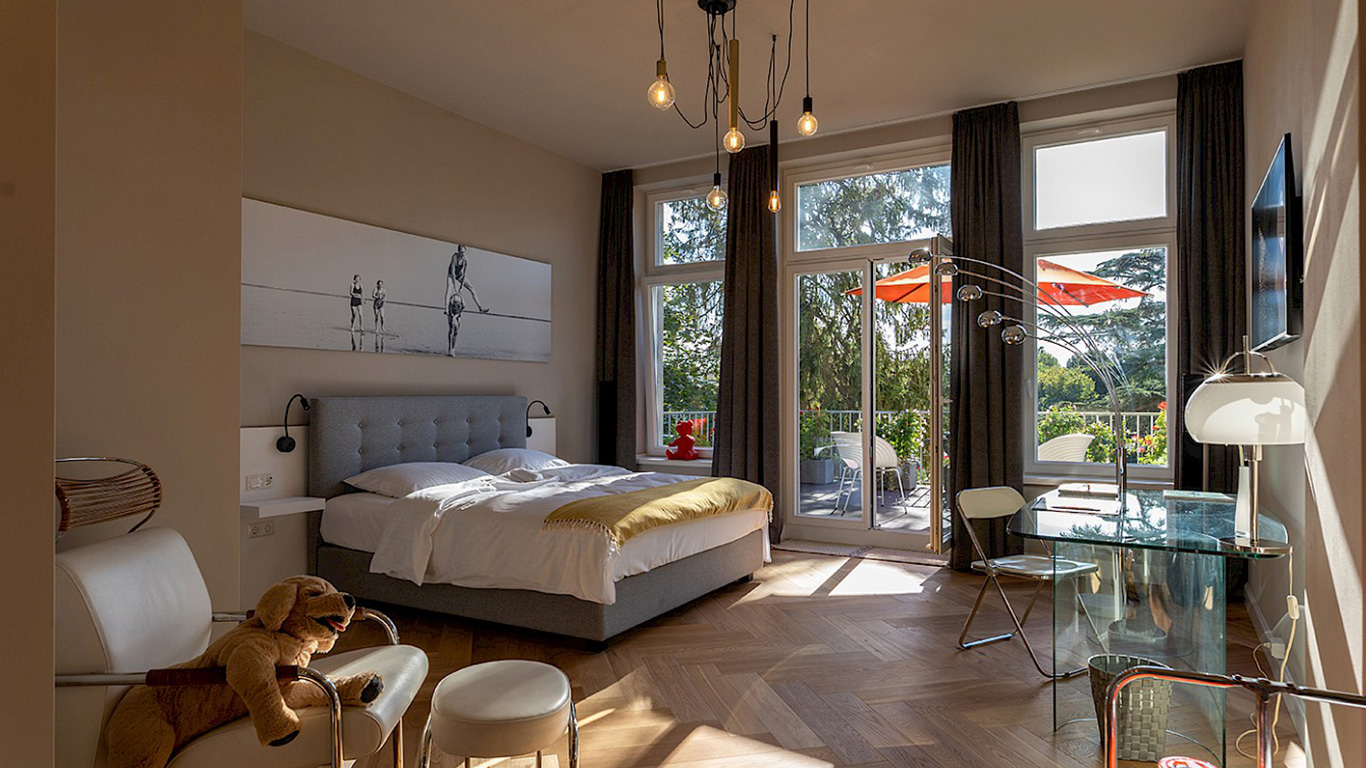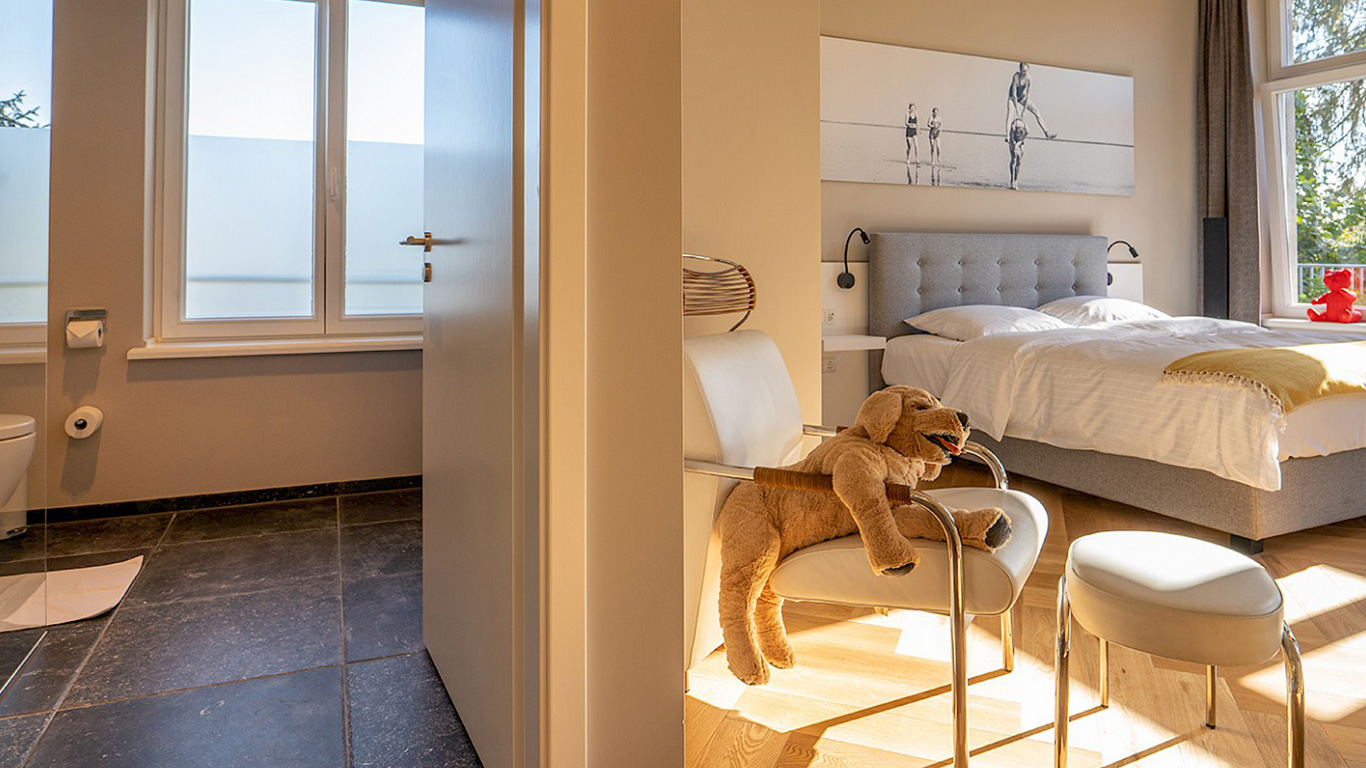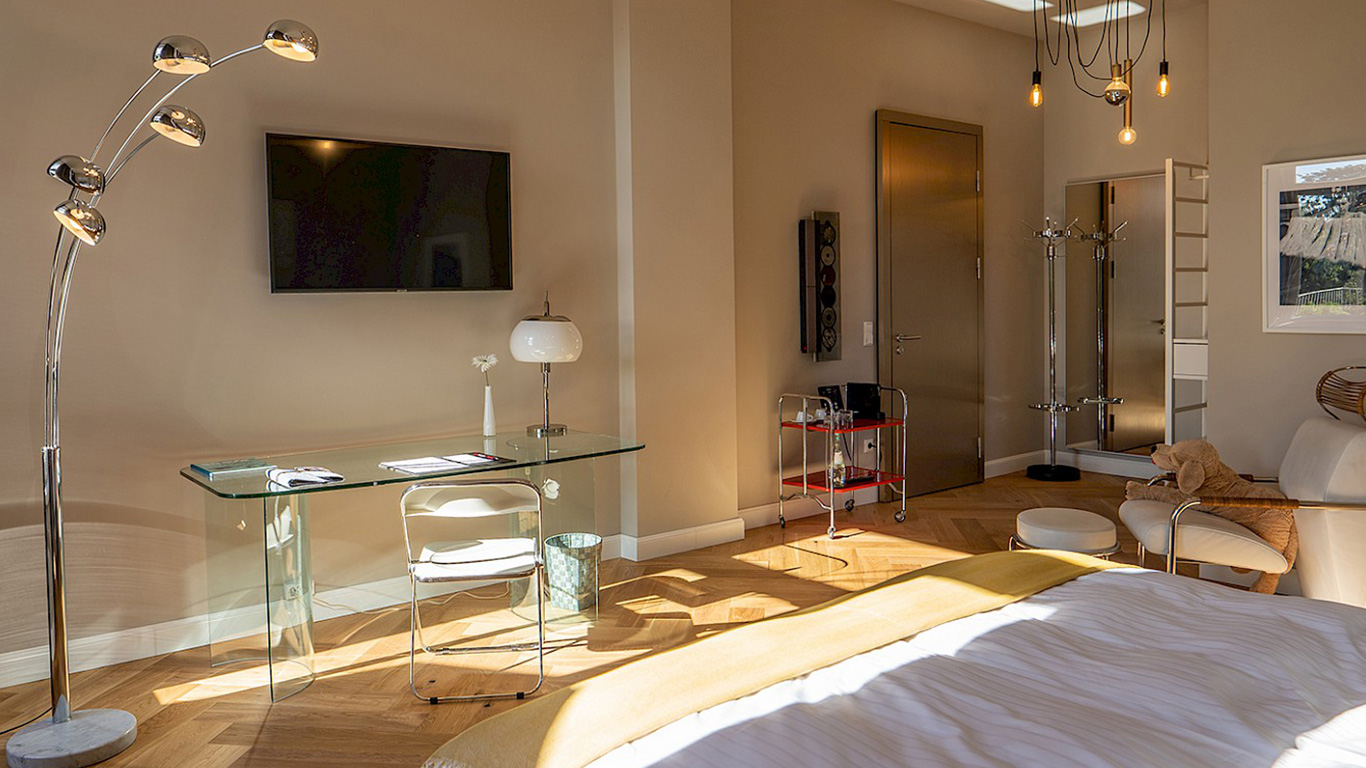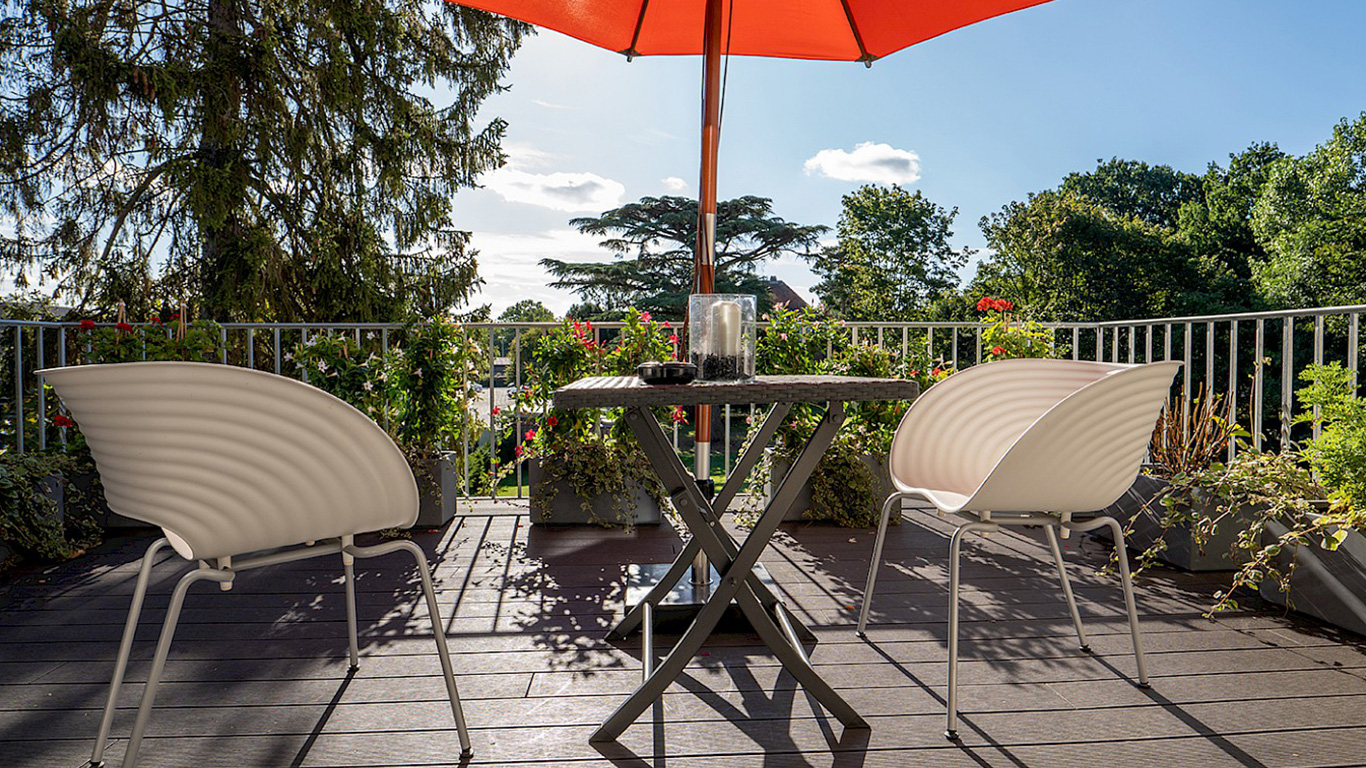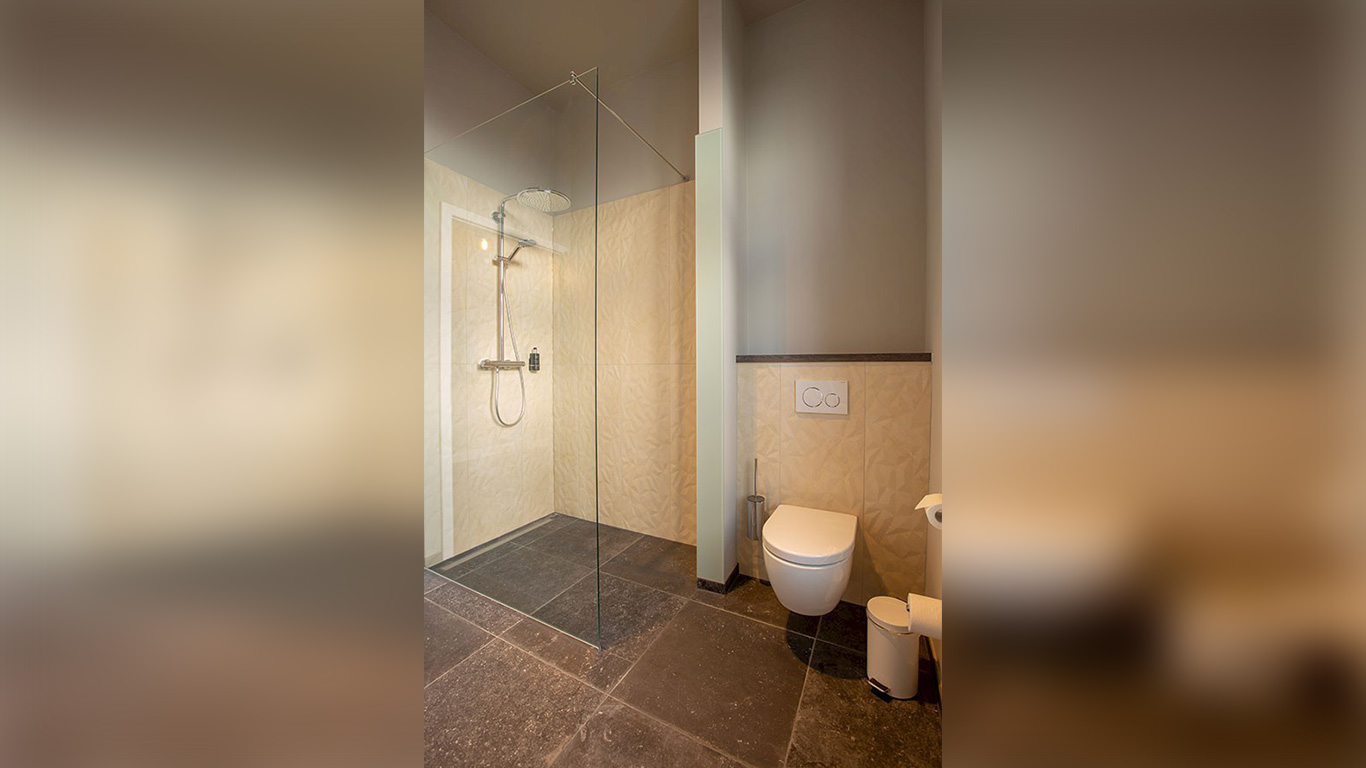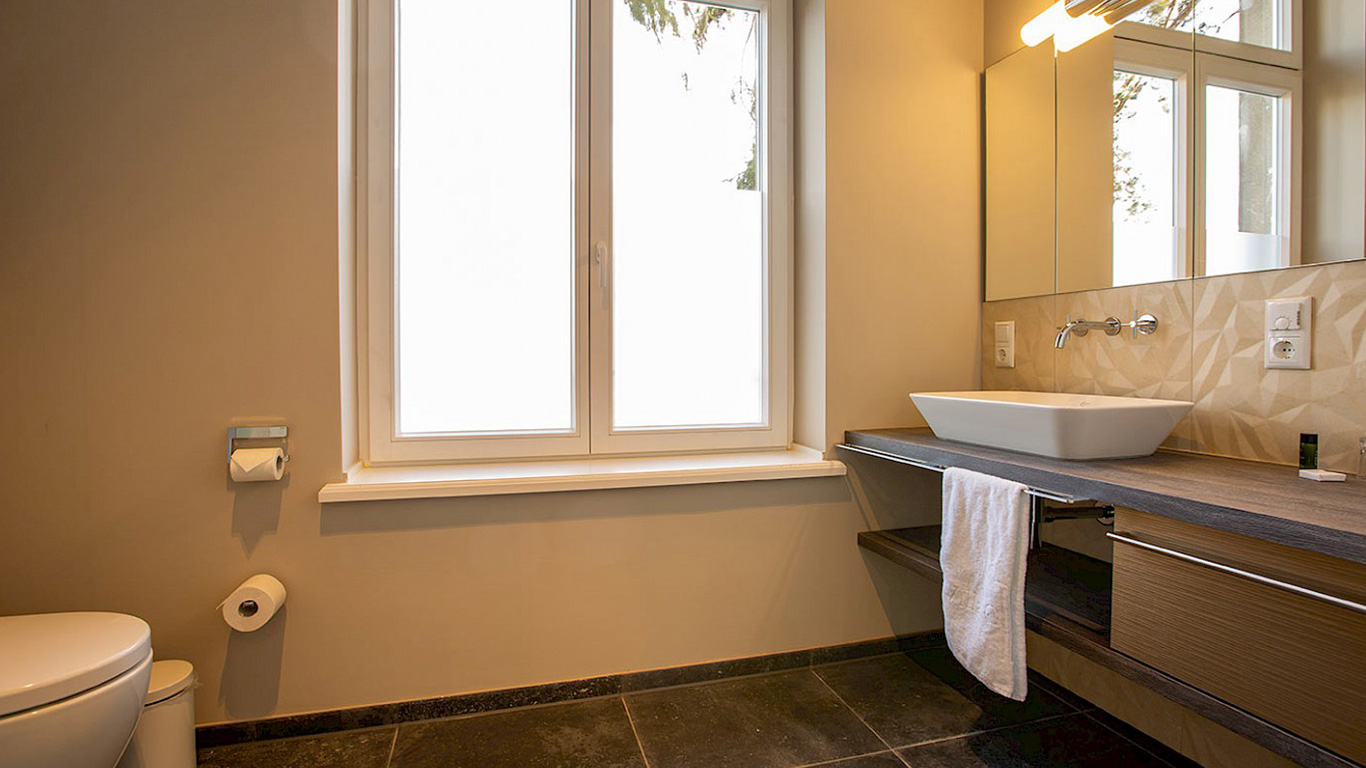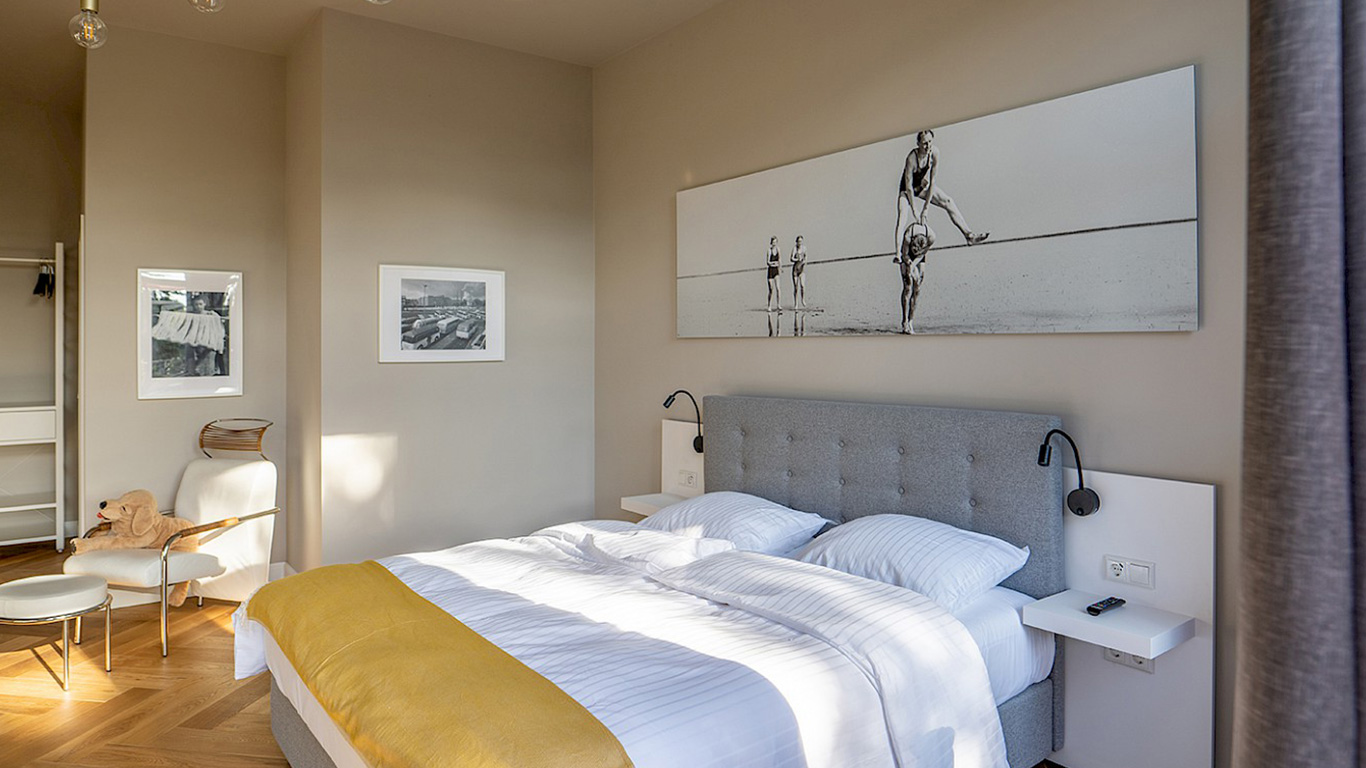 Deluxe Suite
Room 3 – the second deluxe suite with kind size bed is internally called the bridal suite. It is particularly spacious and the only room with a balcony that offers a magnificent view of the park. The daylight bathroom has a spacious shower with a large rain shower head.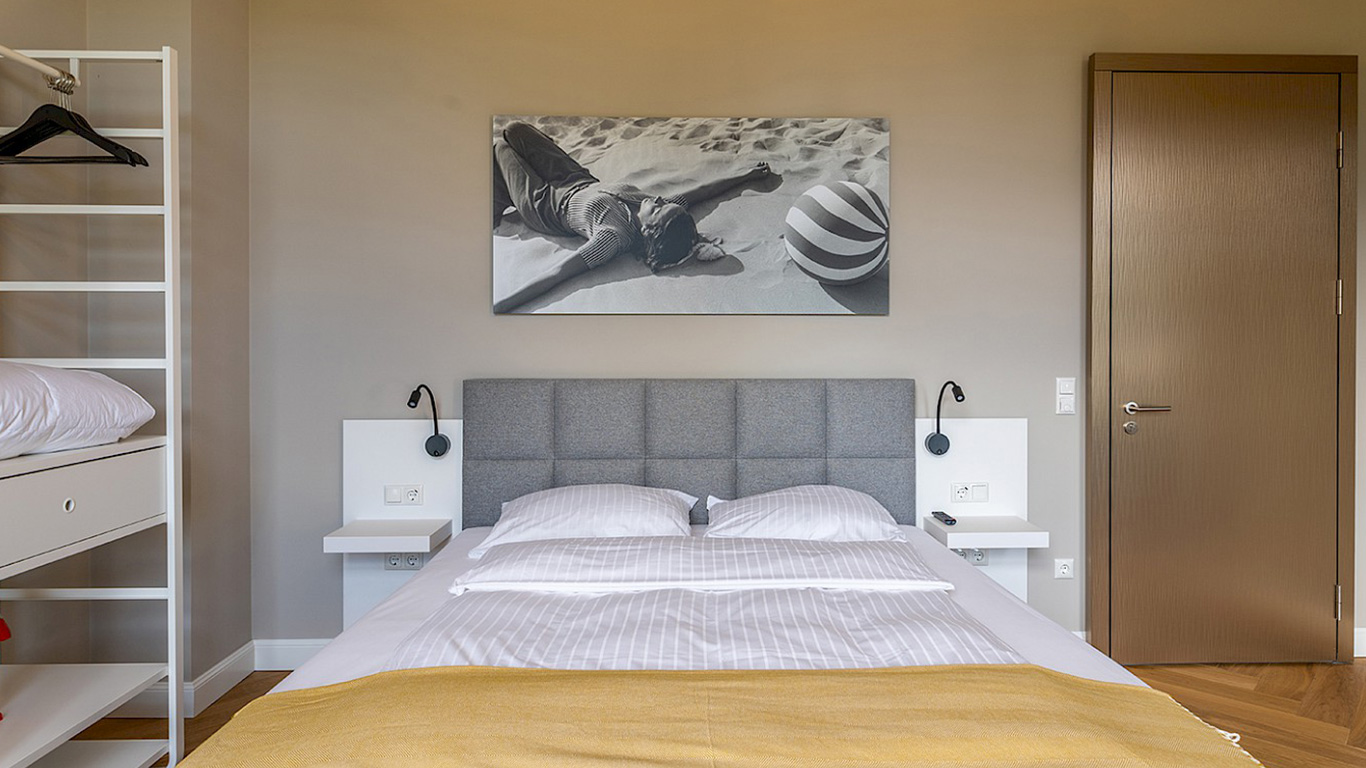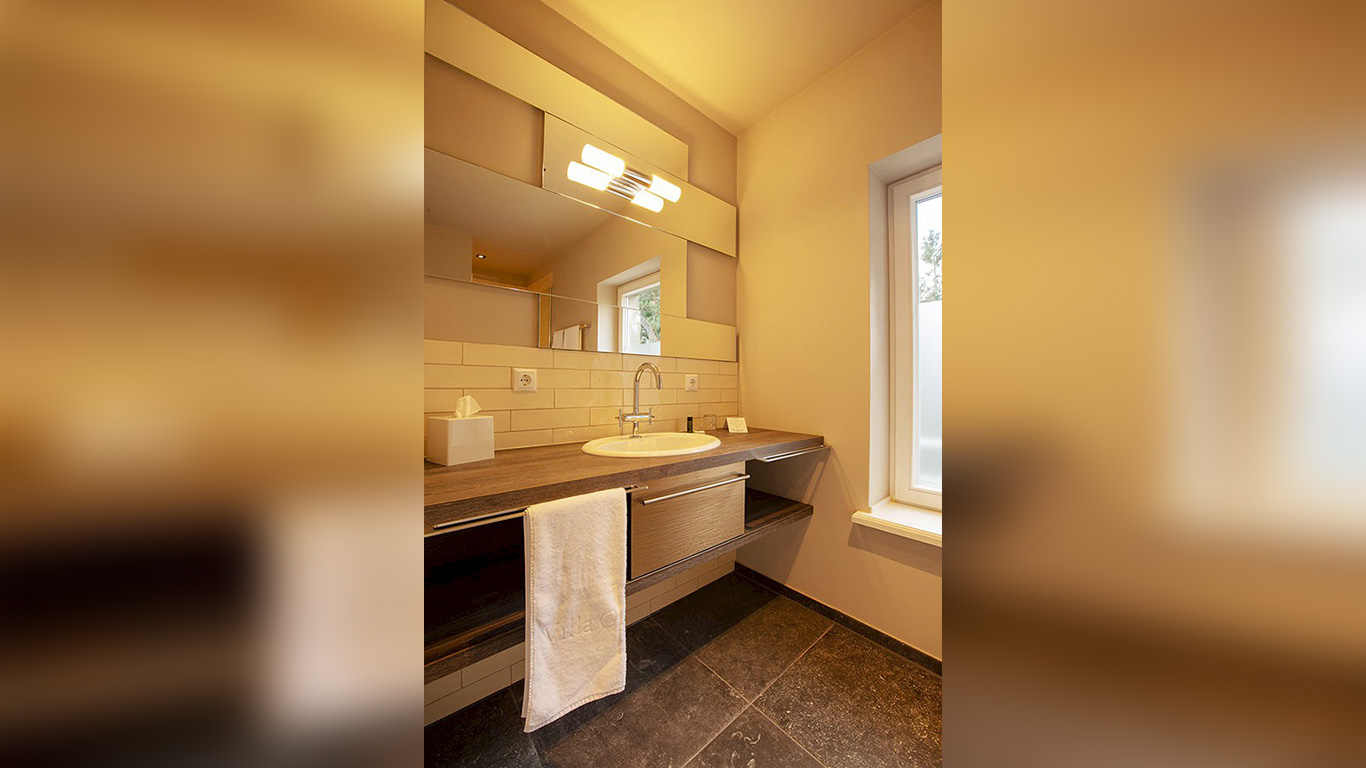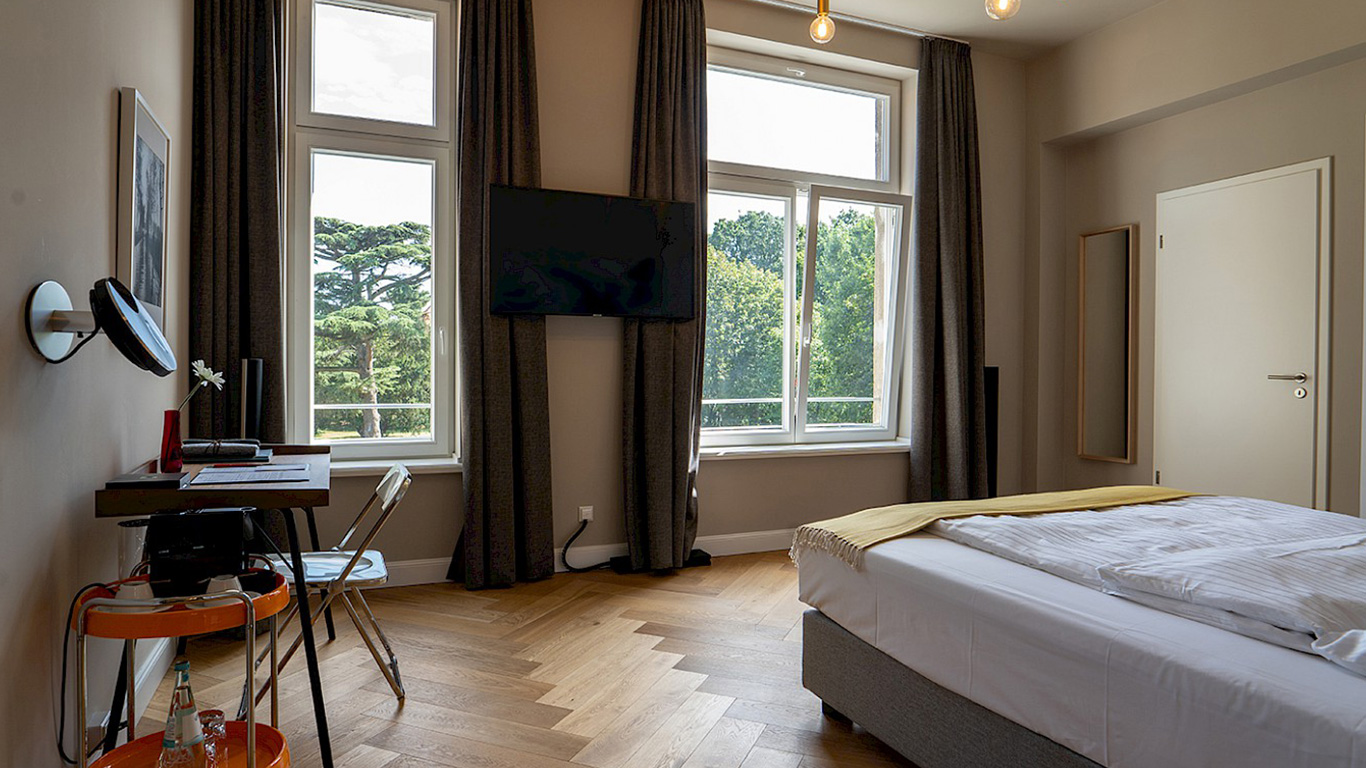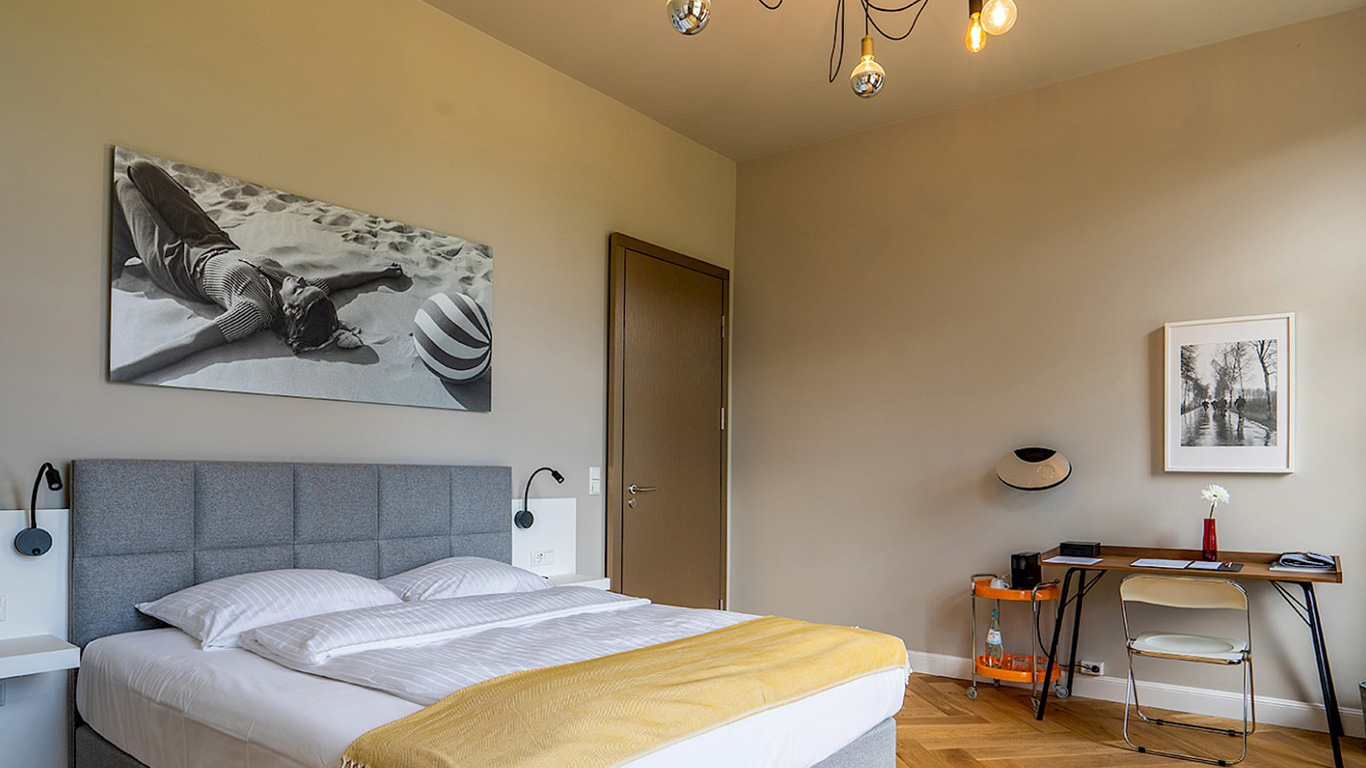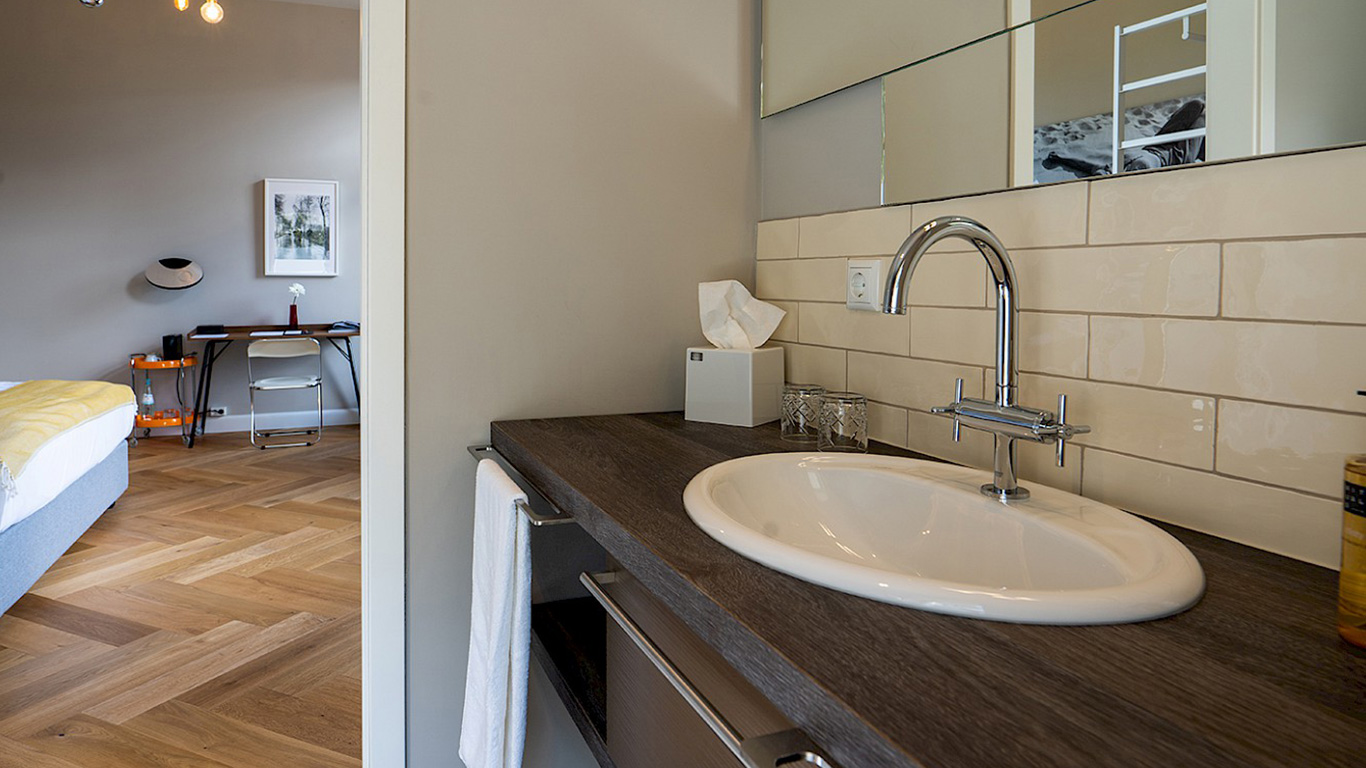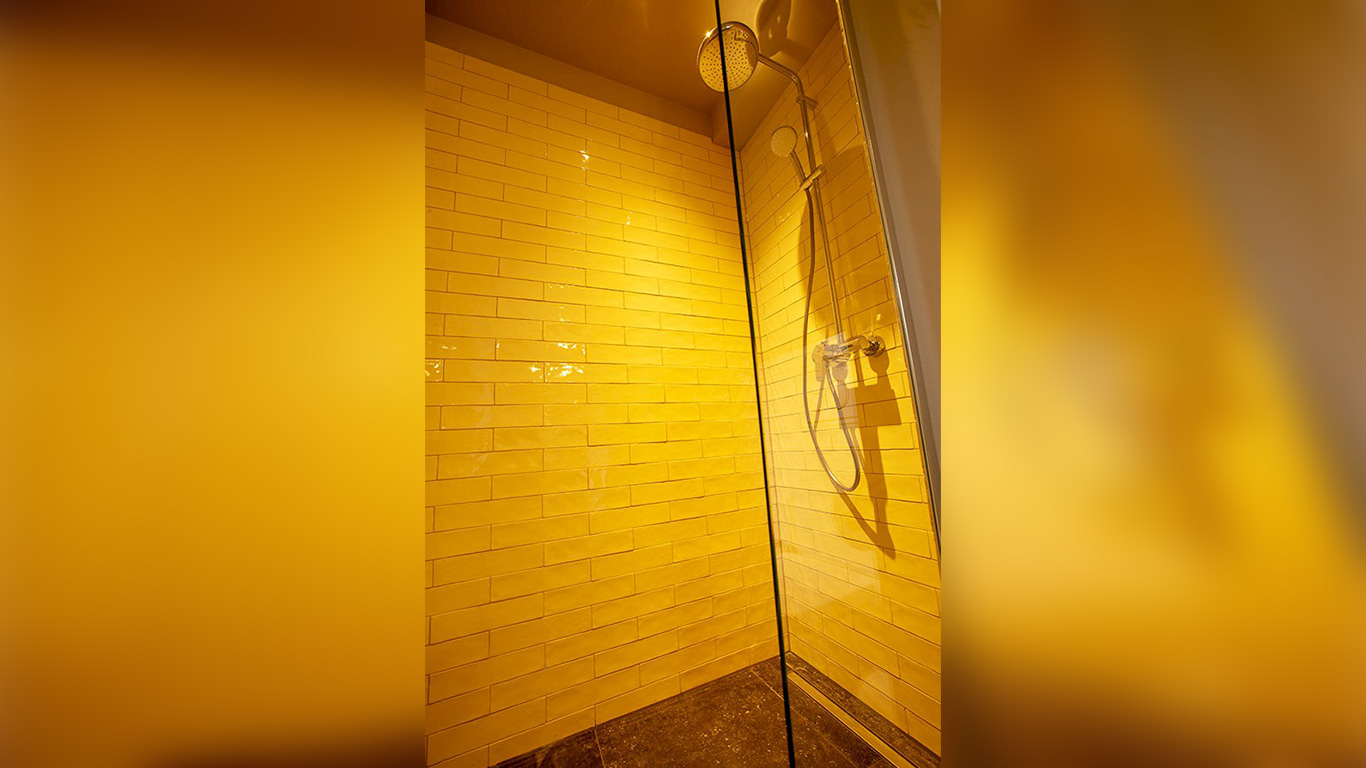 Executive Suite
Room 4 – our only executive suite. It is spacious and bright with a direct view to the park. You can look out into the greenery from the daylight bathroom. The room has a king size bed, TV and working area.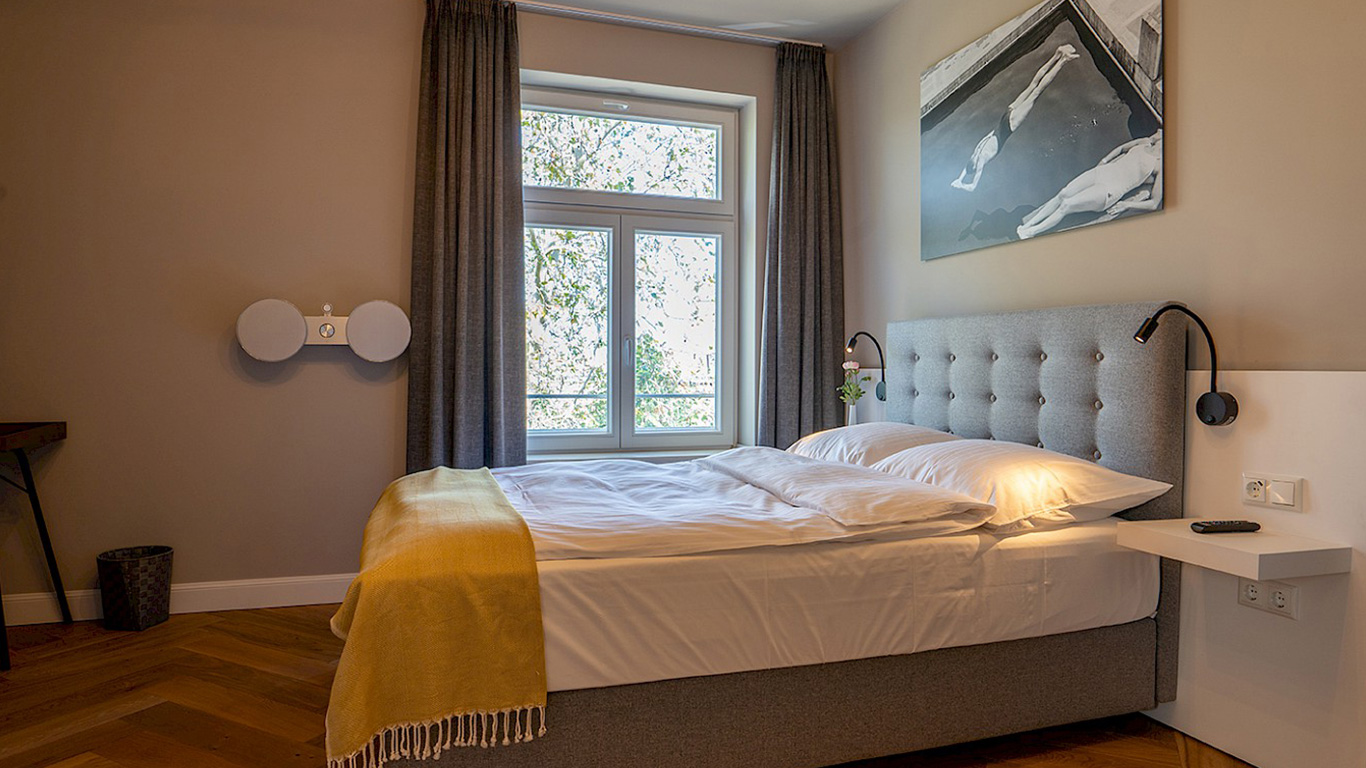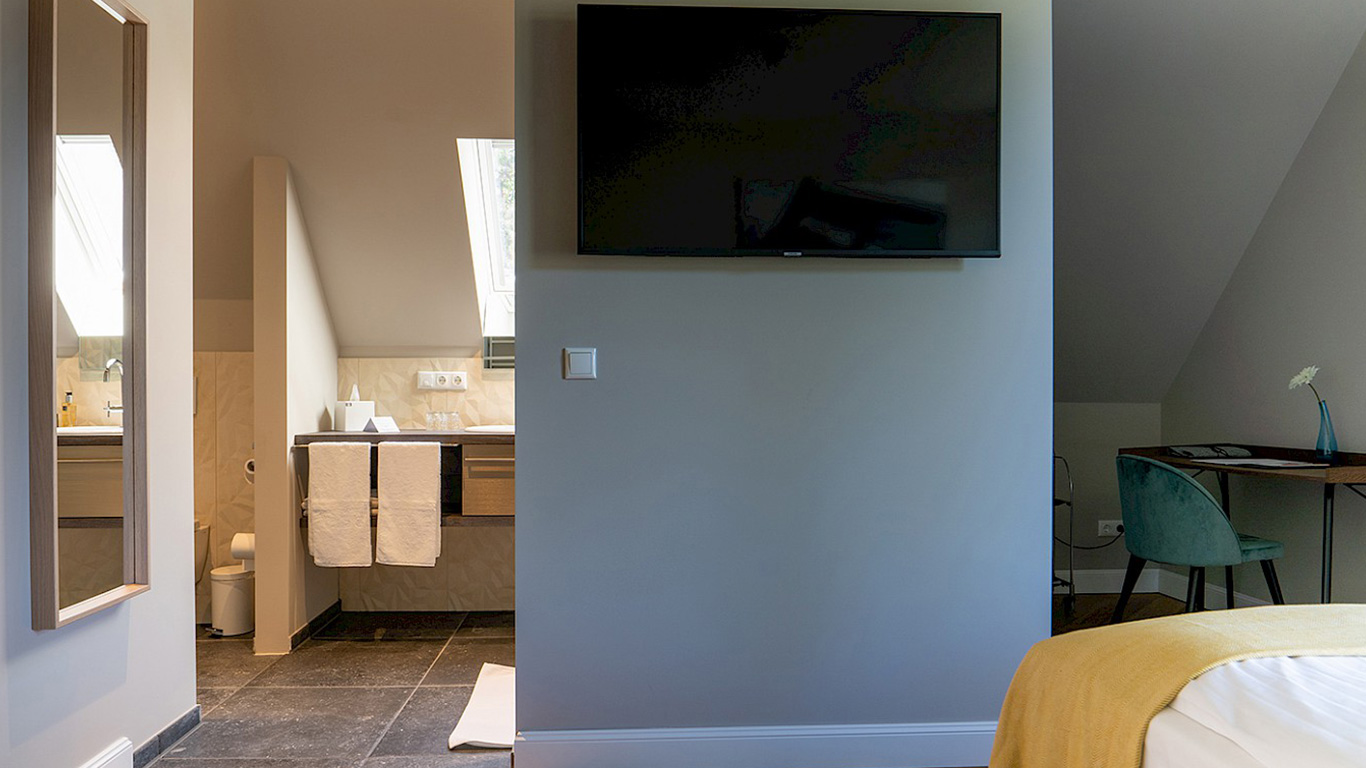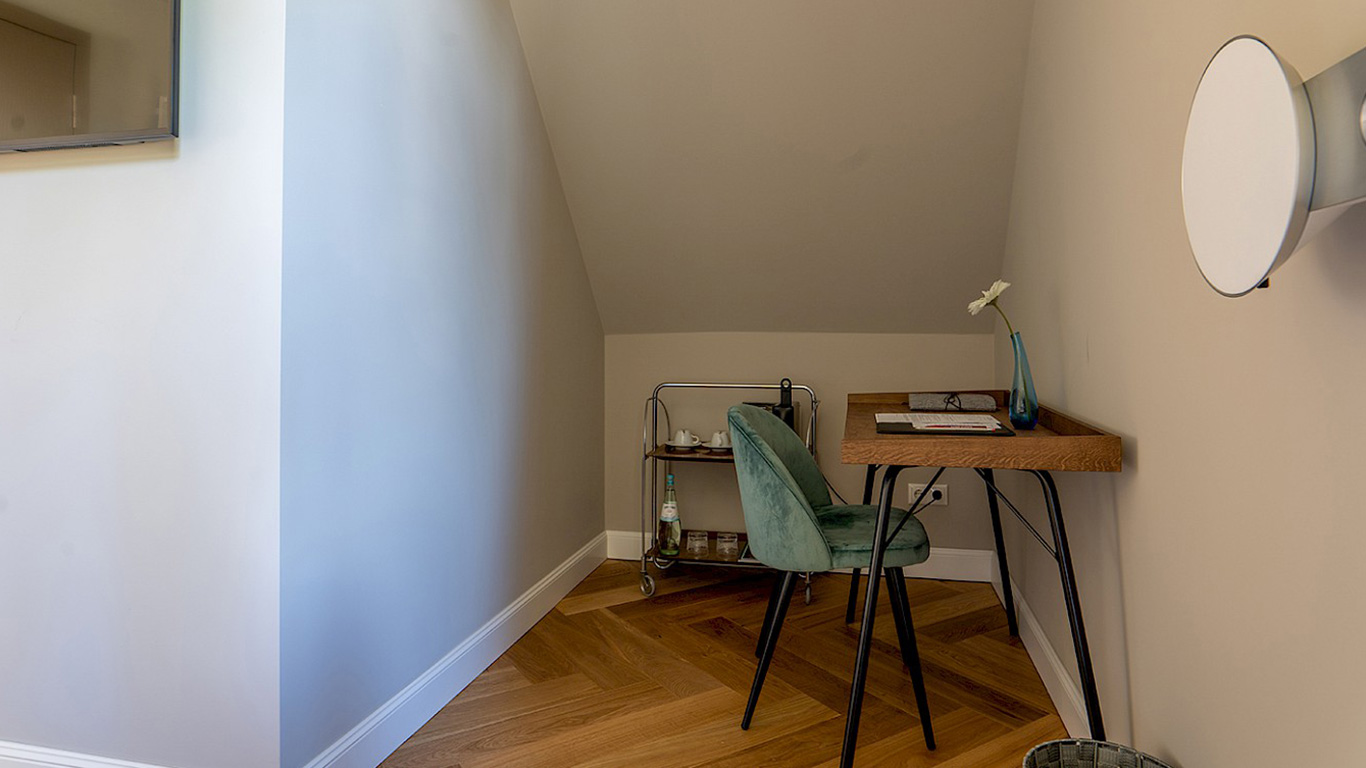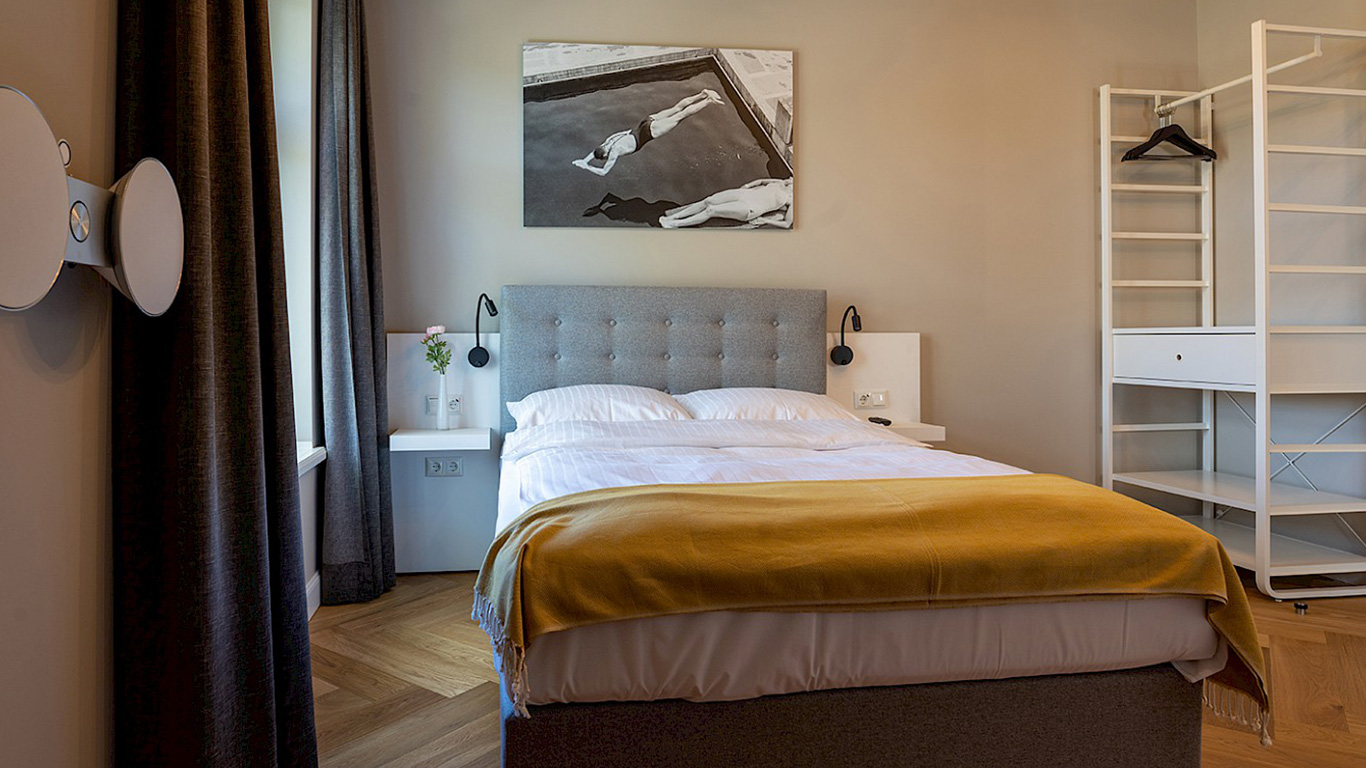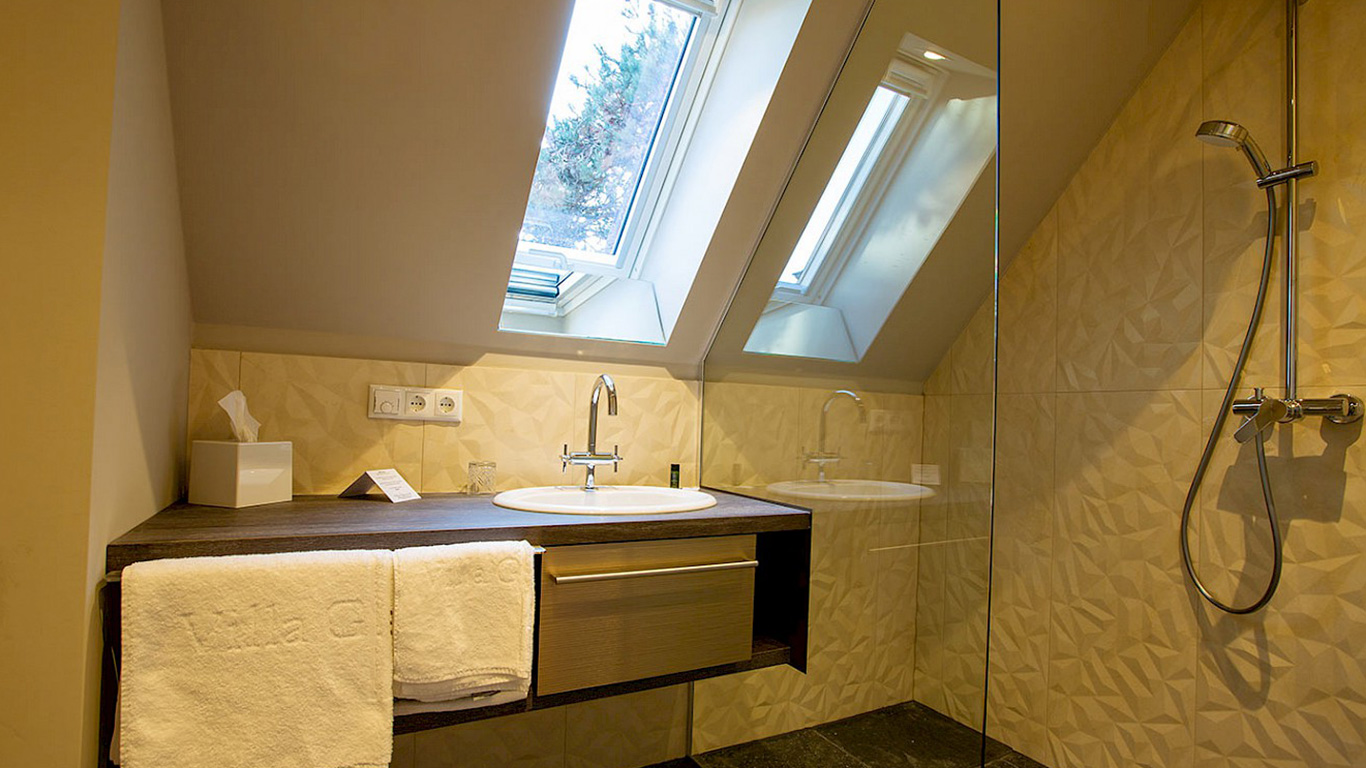 Junior Suite
Room 5 – a second junior suite with a 'small' 1.4m queen size bed, located on the second floor. The room is beautifully divided and has two niches under the sloping roof. While in the first niche the half-open bathroom offers space for the beauty, the second niche is a nice workplace with desk and coffee bar.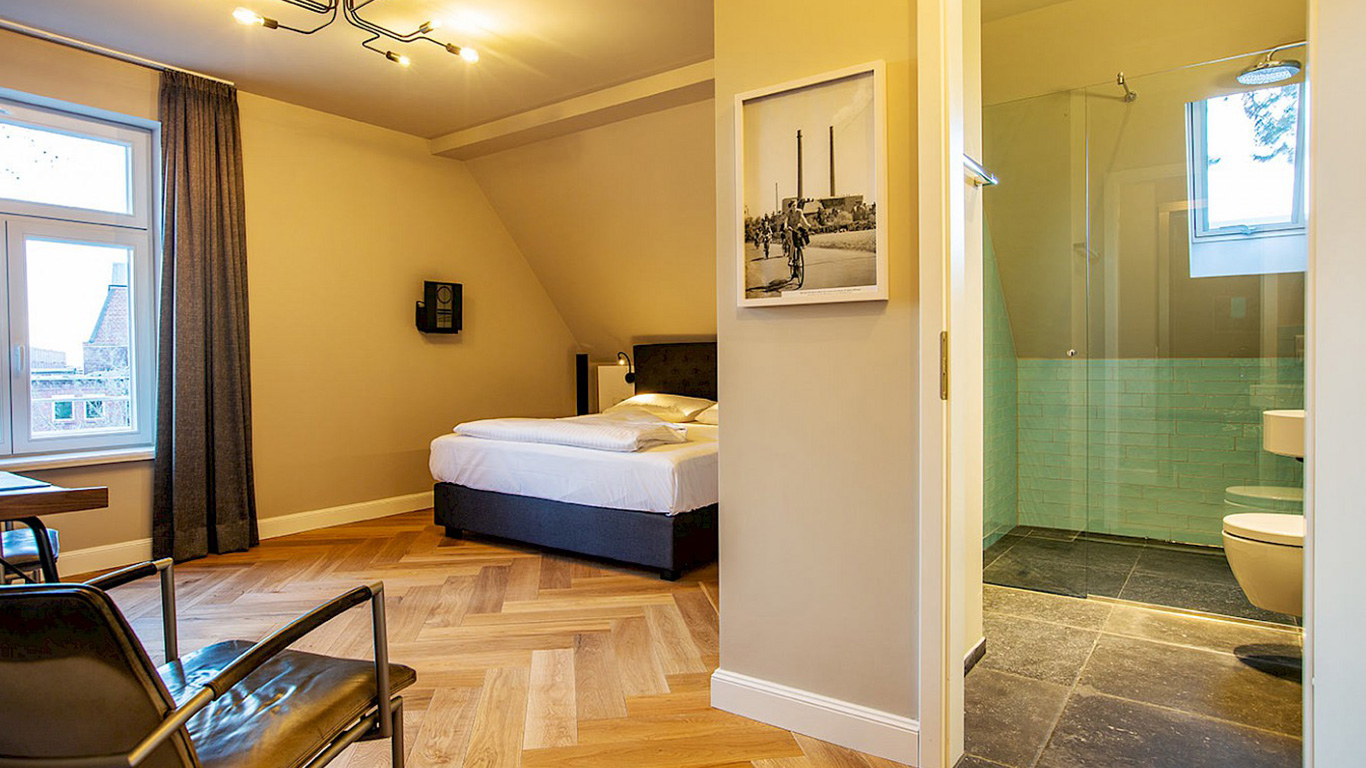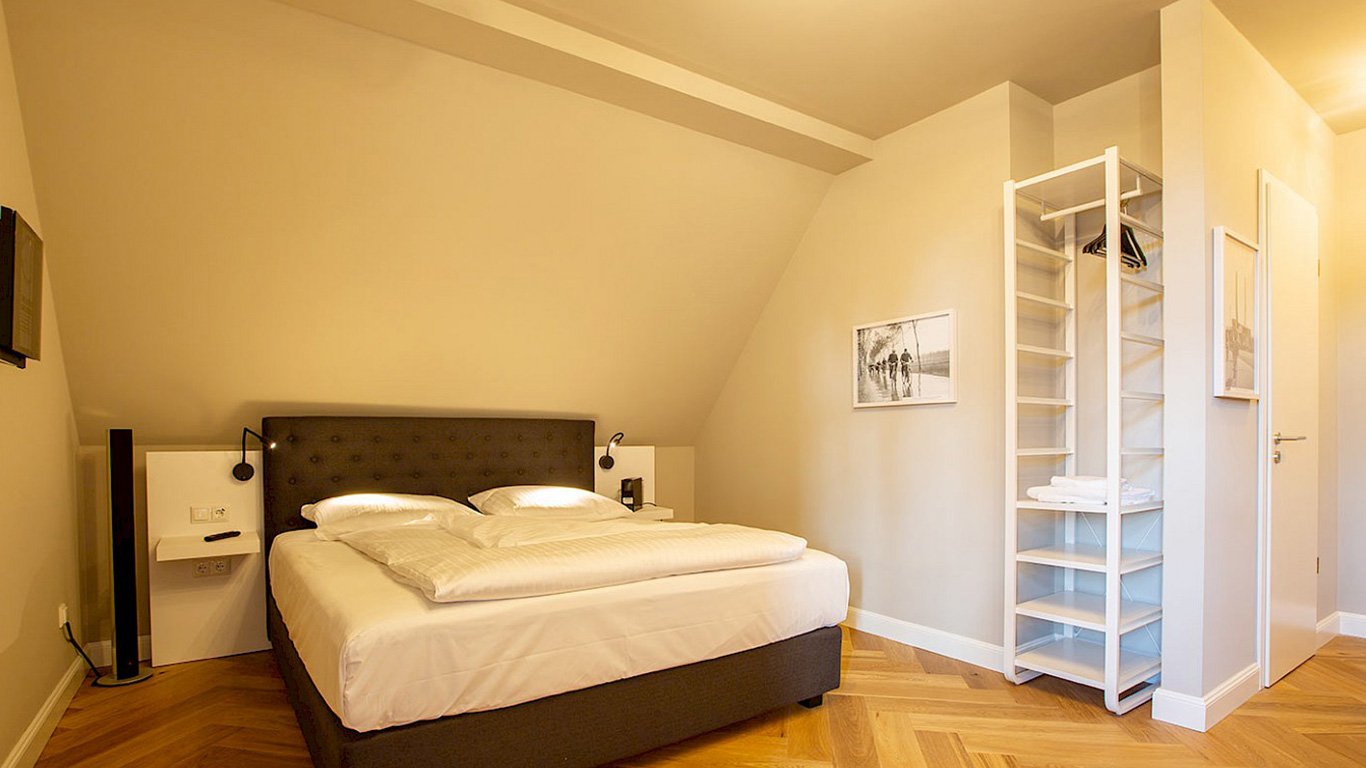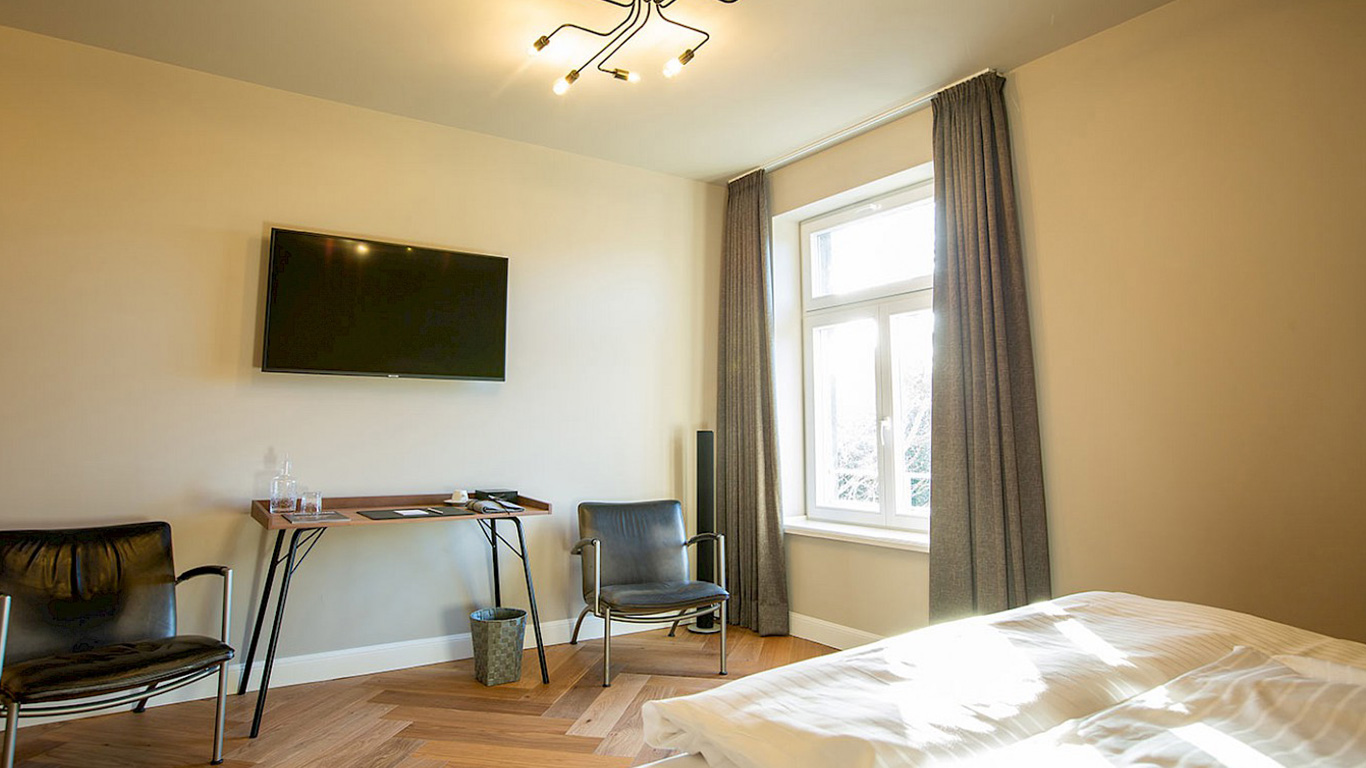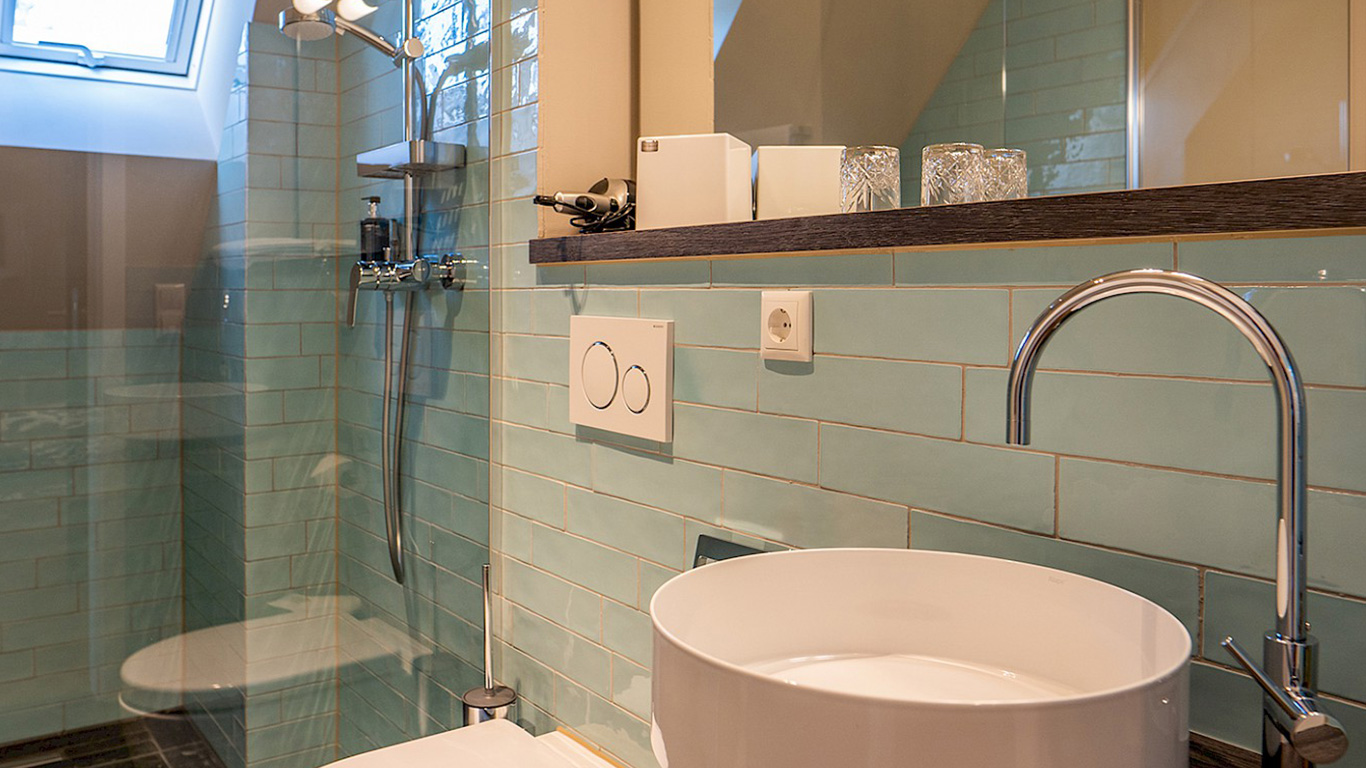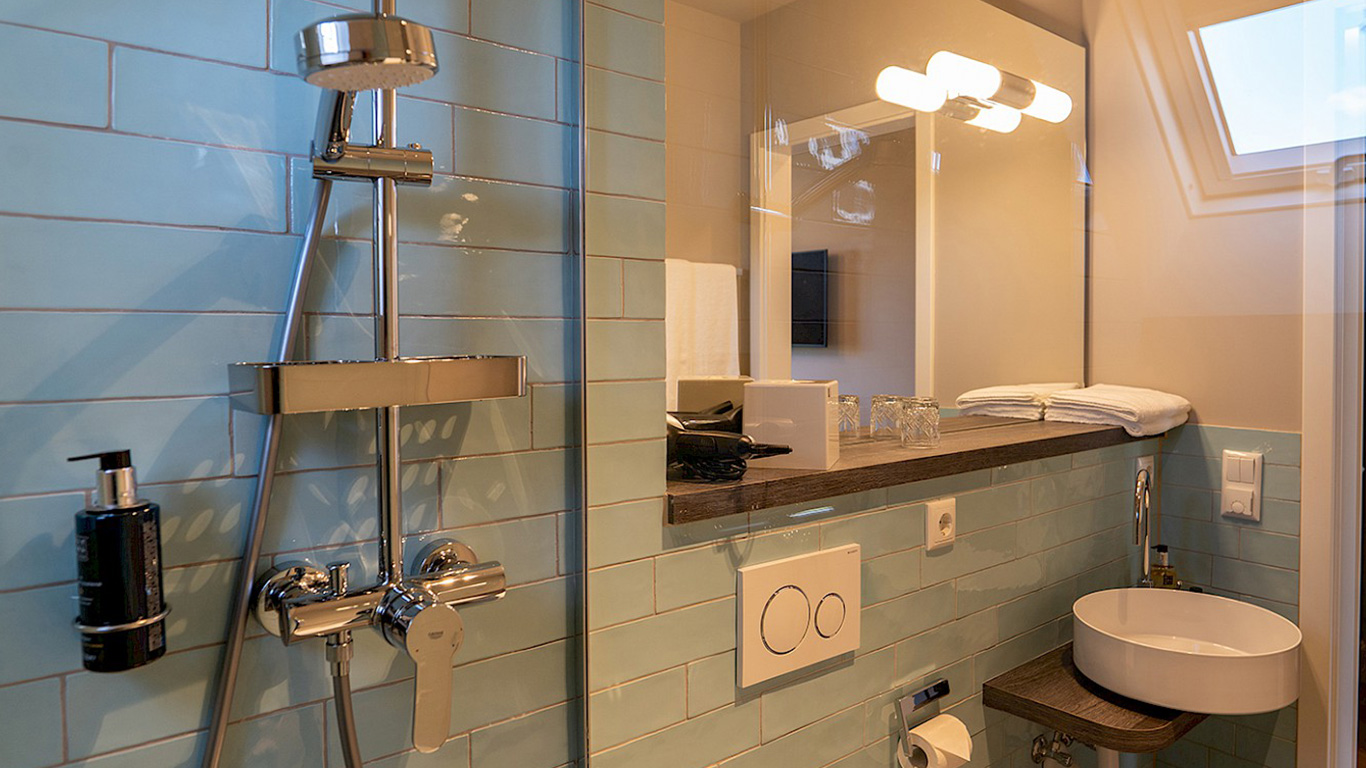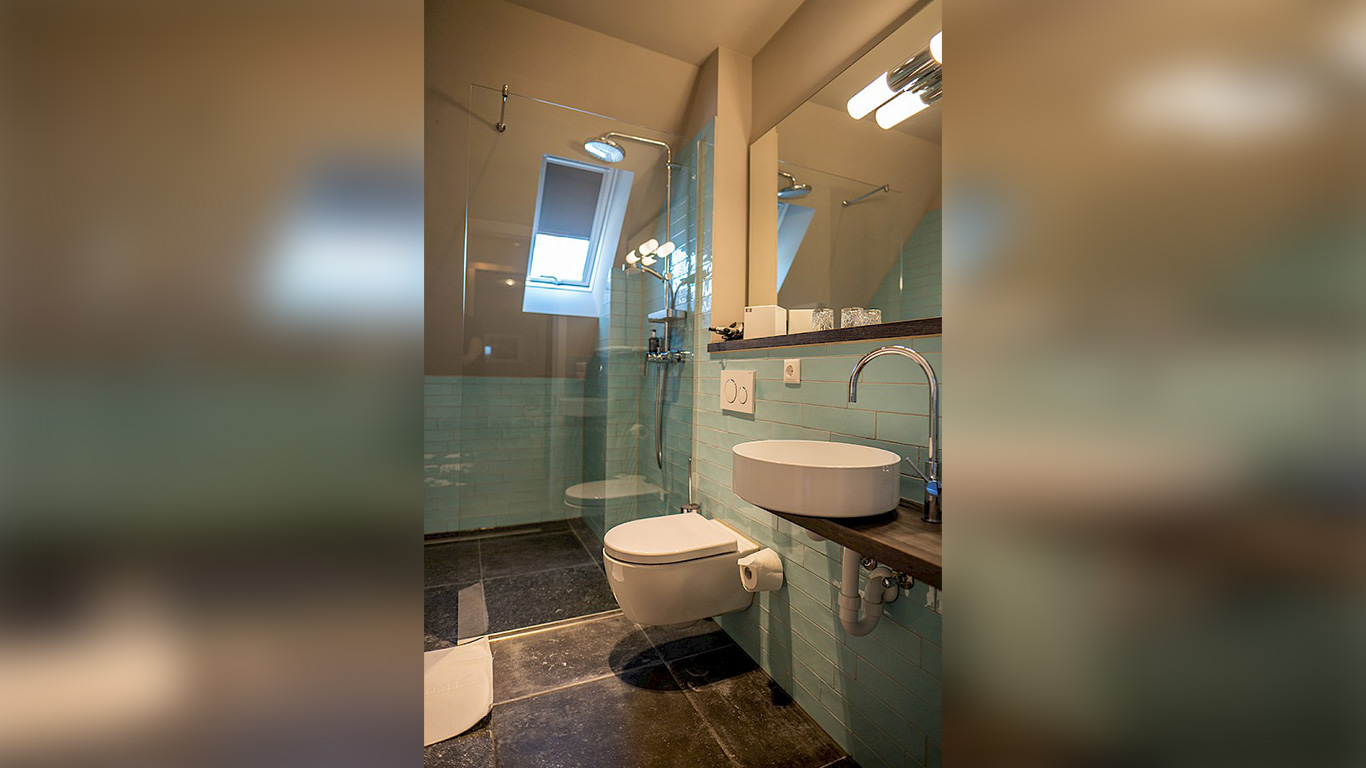 Superior Suite
Room 6 – our superior suite with a comfortable king size bed under a sloping roof. The room is spacious and has a friendly bathroom with skylight window, which provides daylight and fresh air. A leather armchair invites you to linger.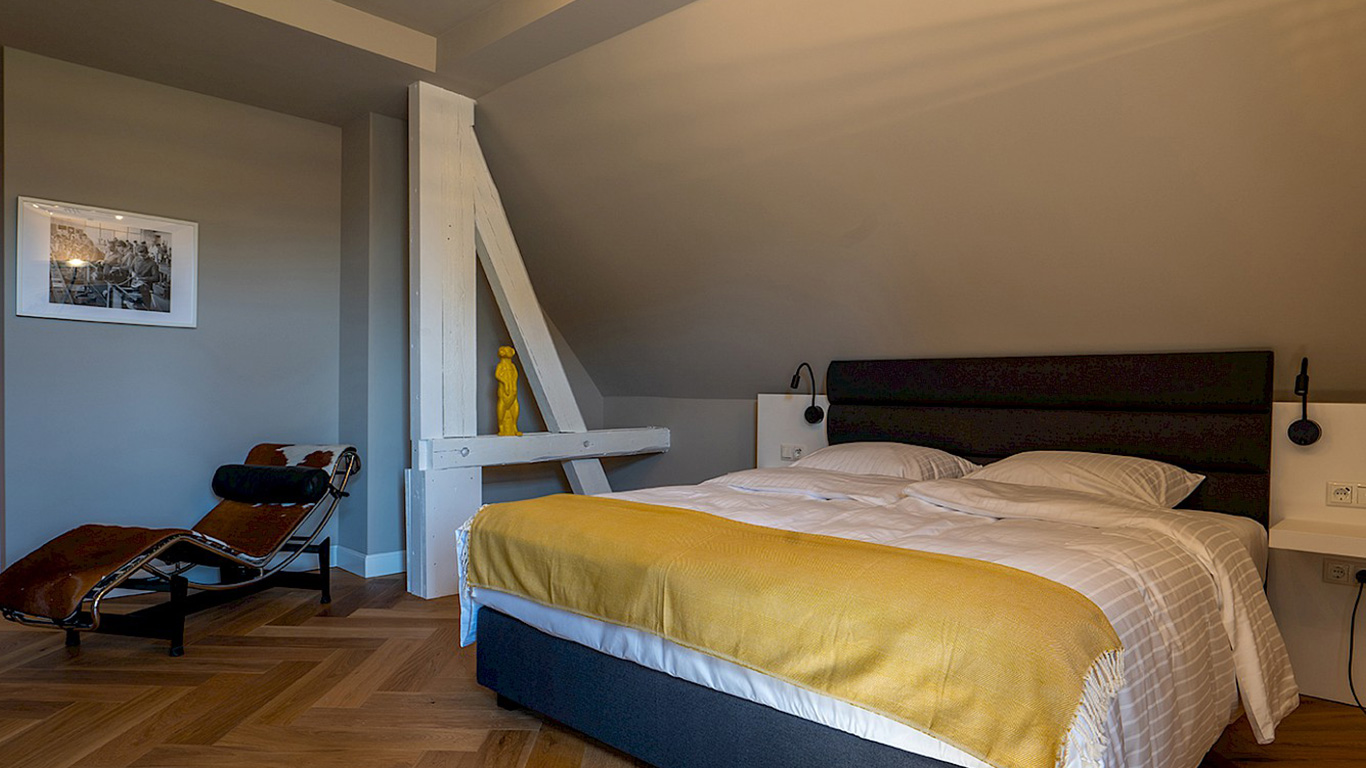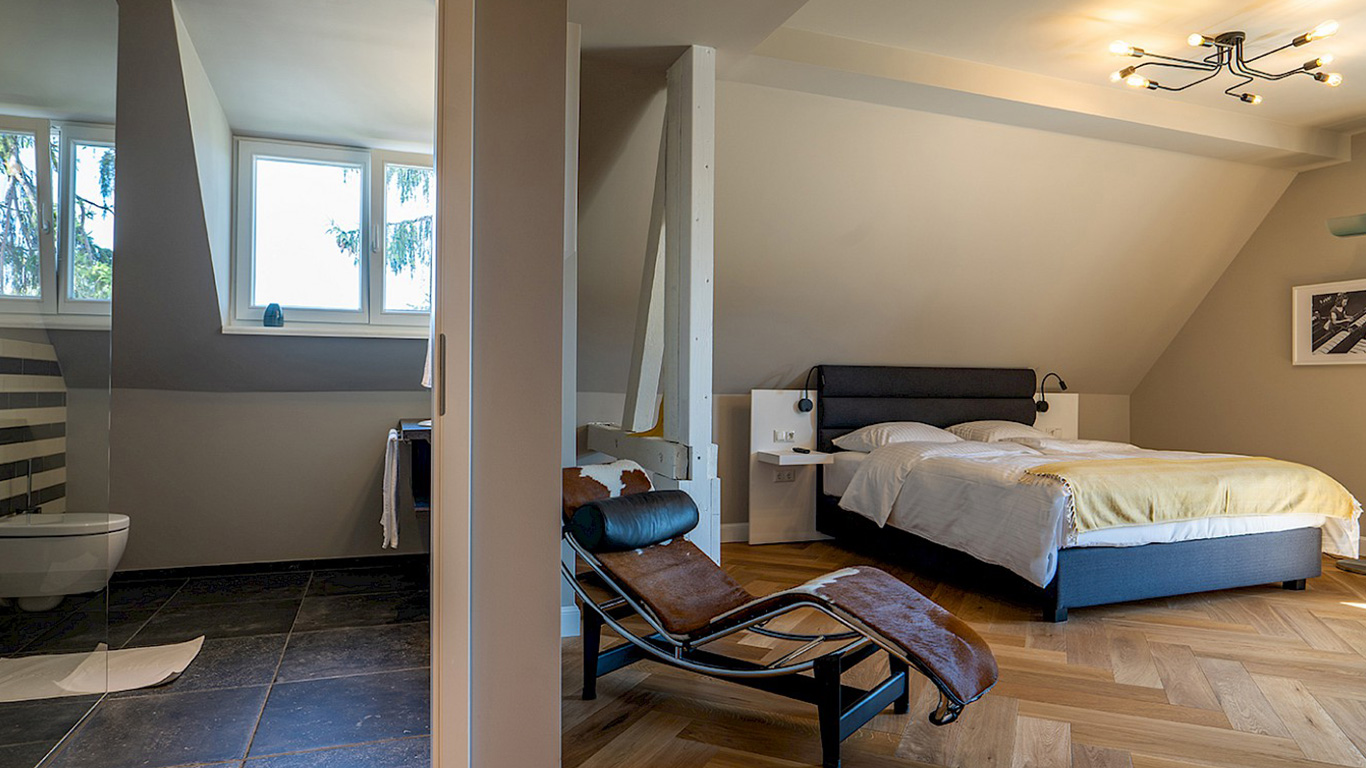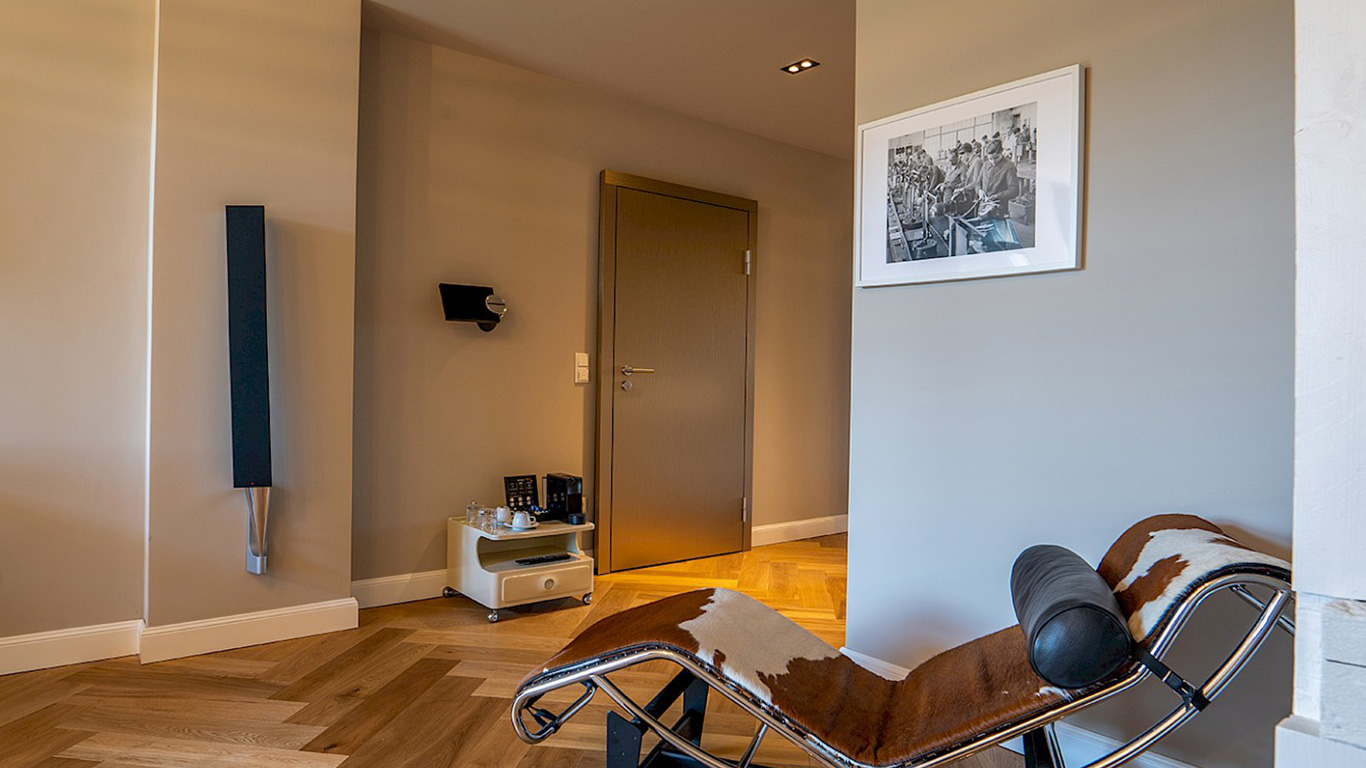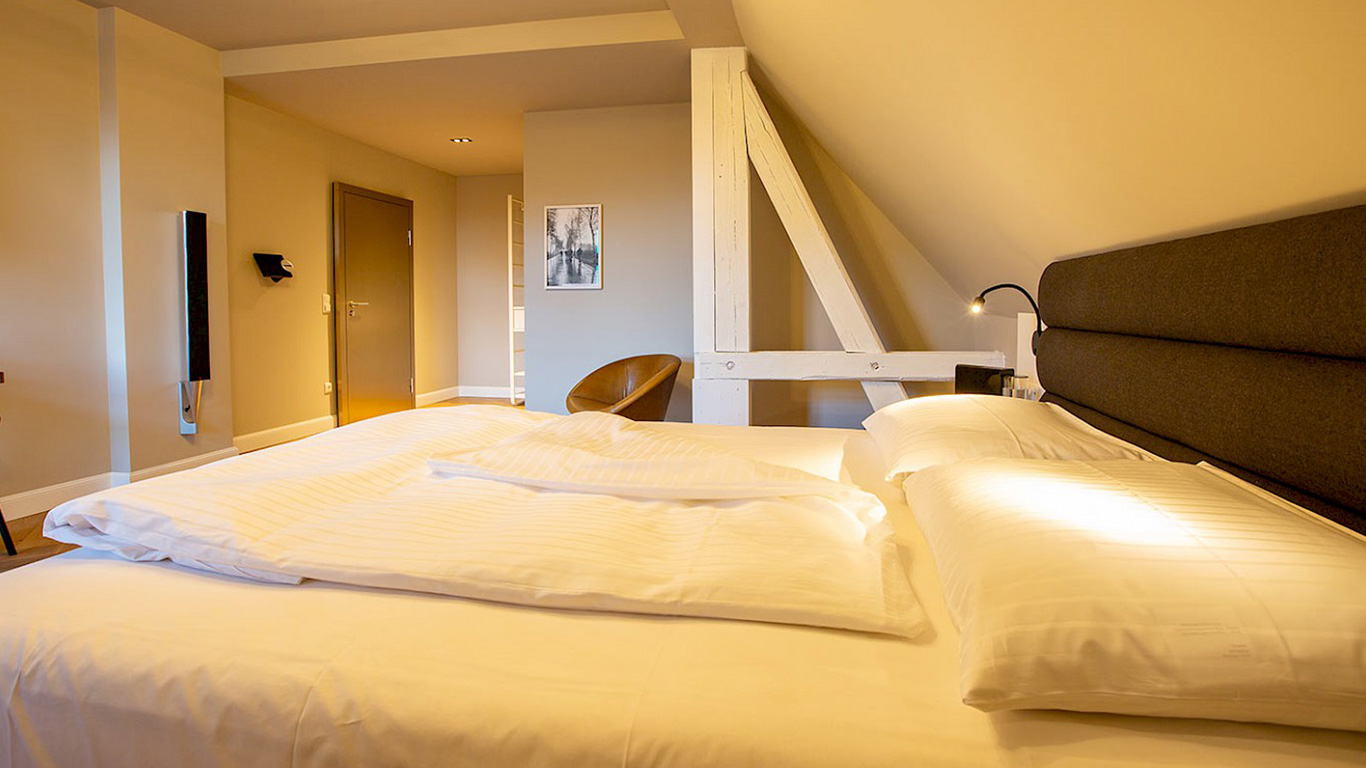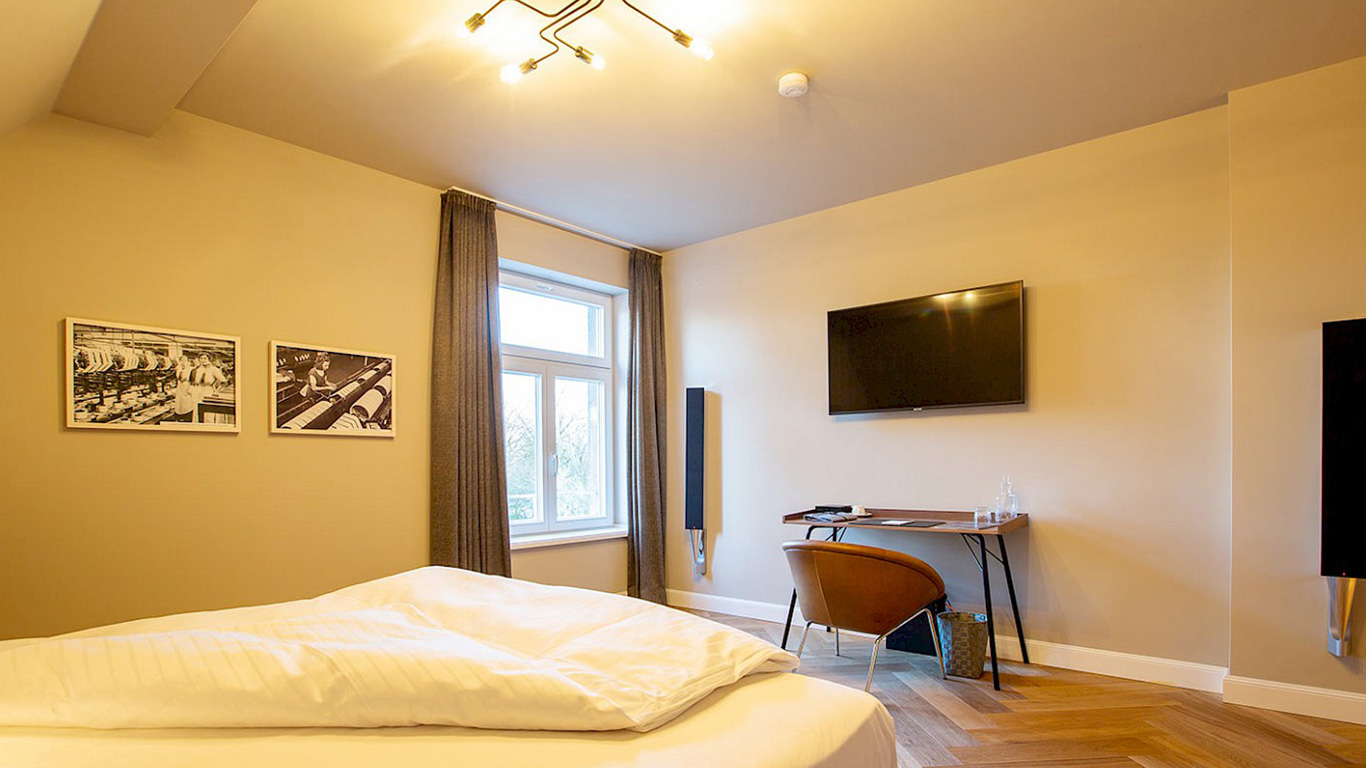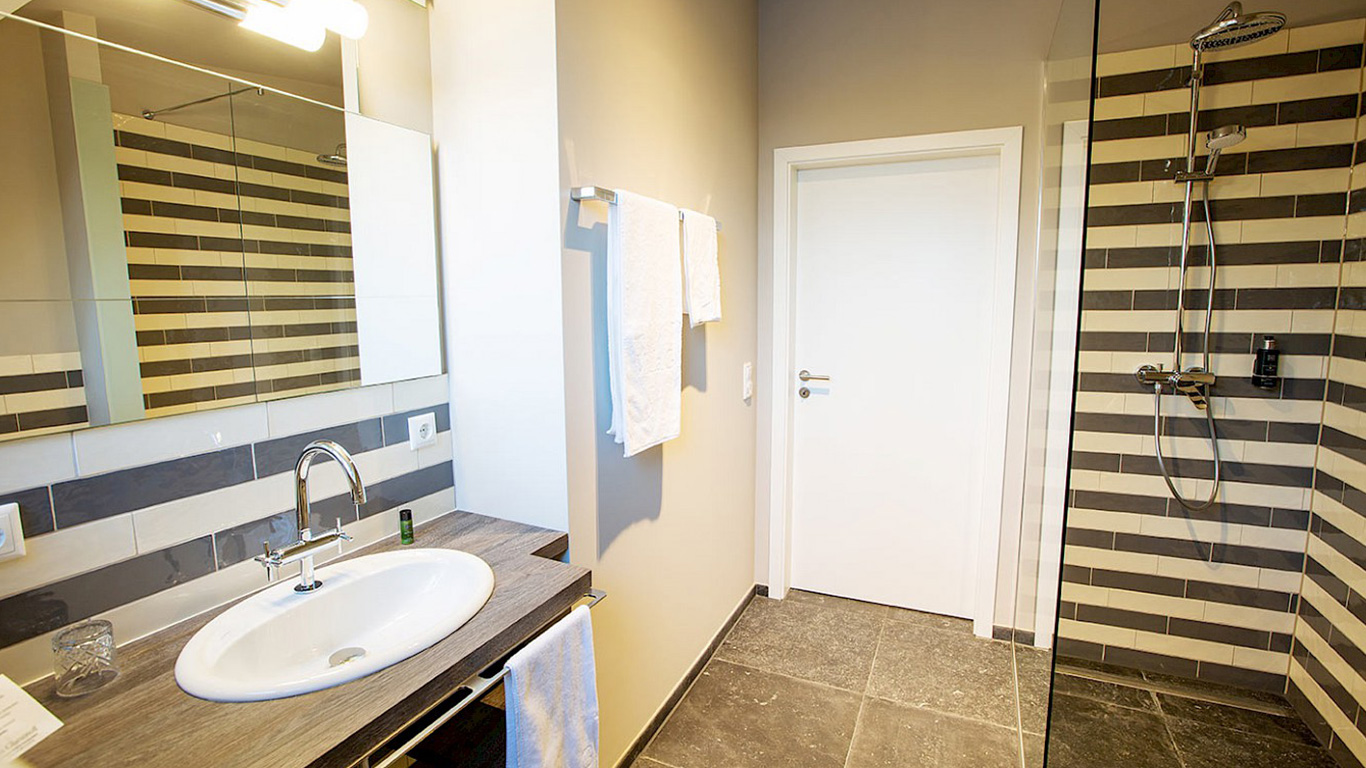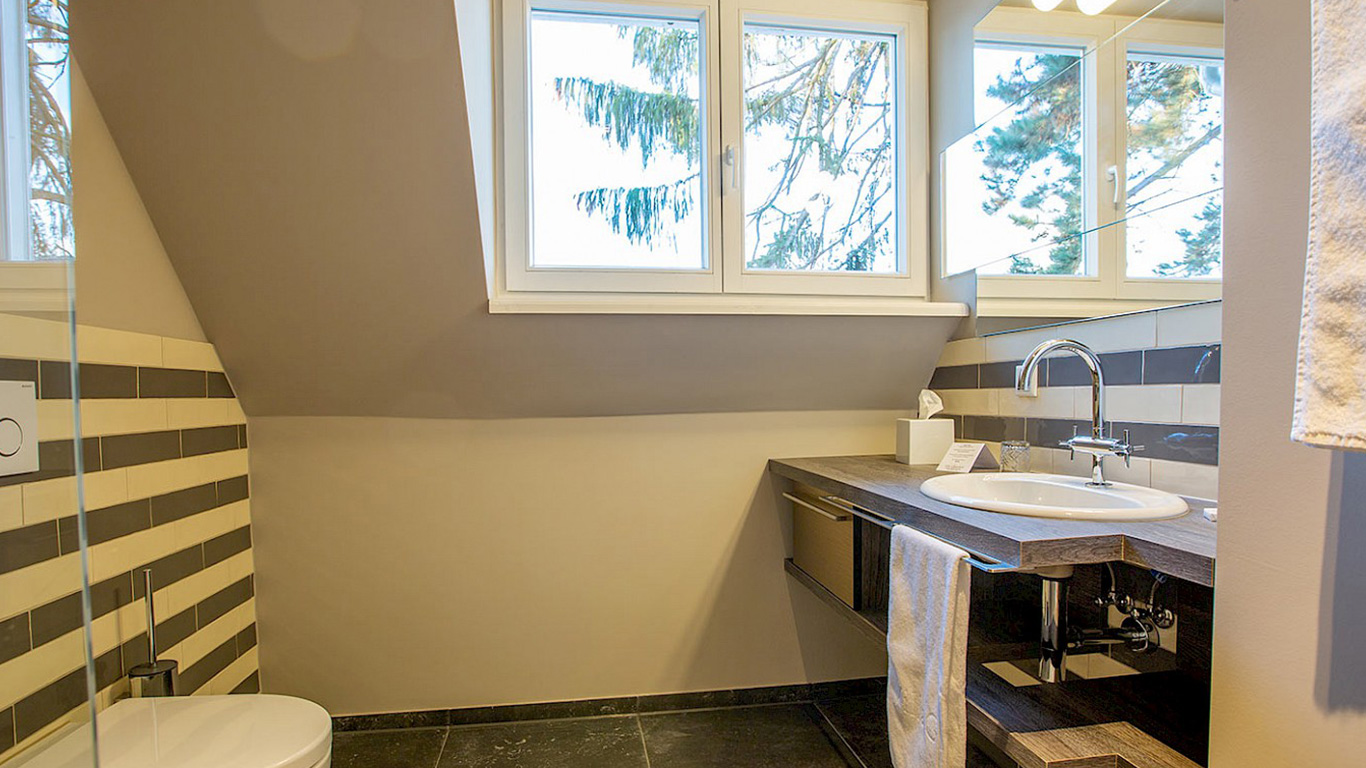 Superior Suite
Room 7 – the second superior suite which is also located on the second floor with view into the garden. The open beams give the large room a rustic cosiness, where a cowhide lounger invites you to relax. Like all rooms, the daylight bathroom has a generous rain shower.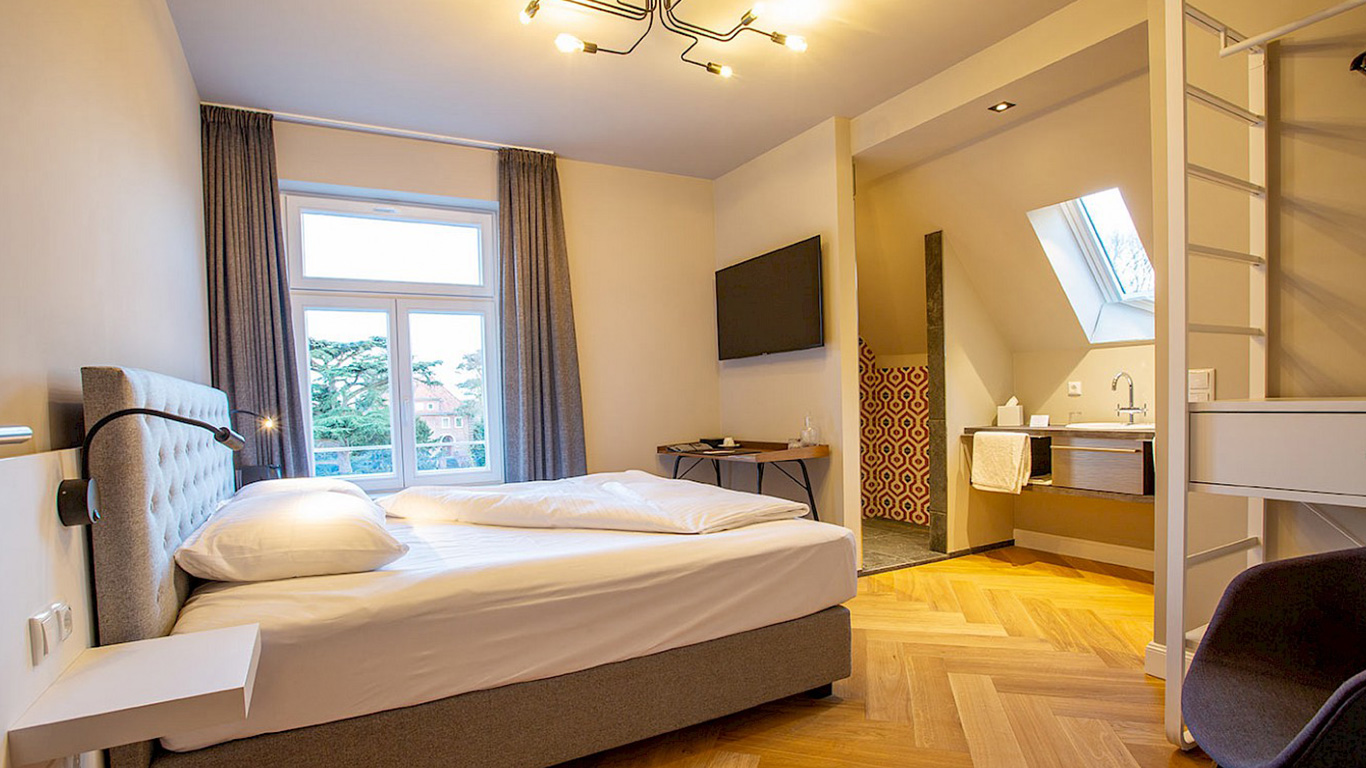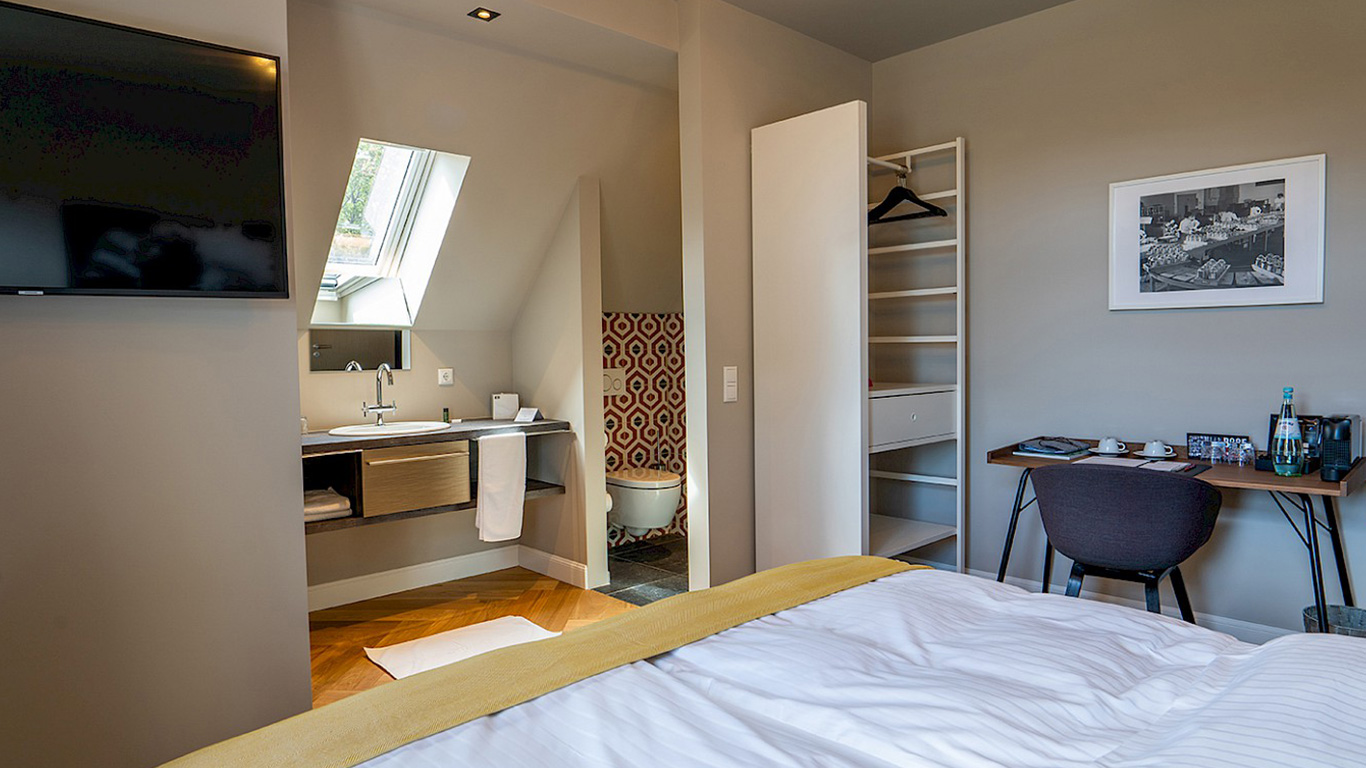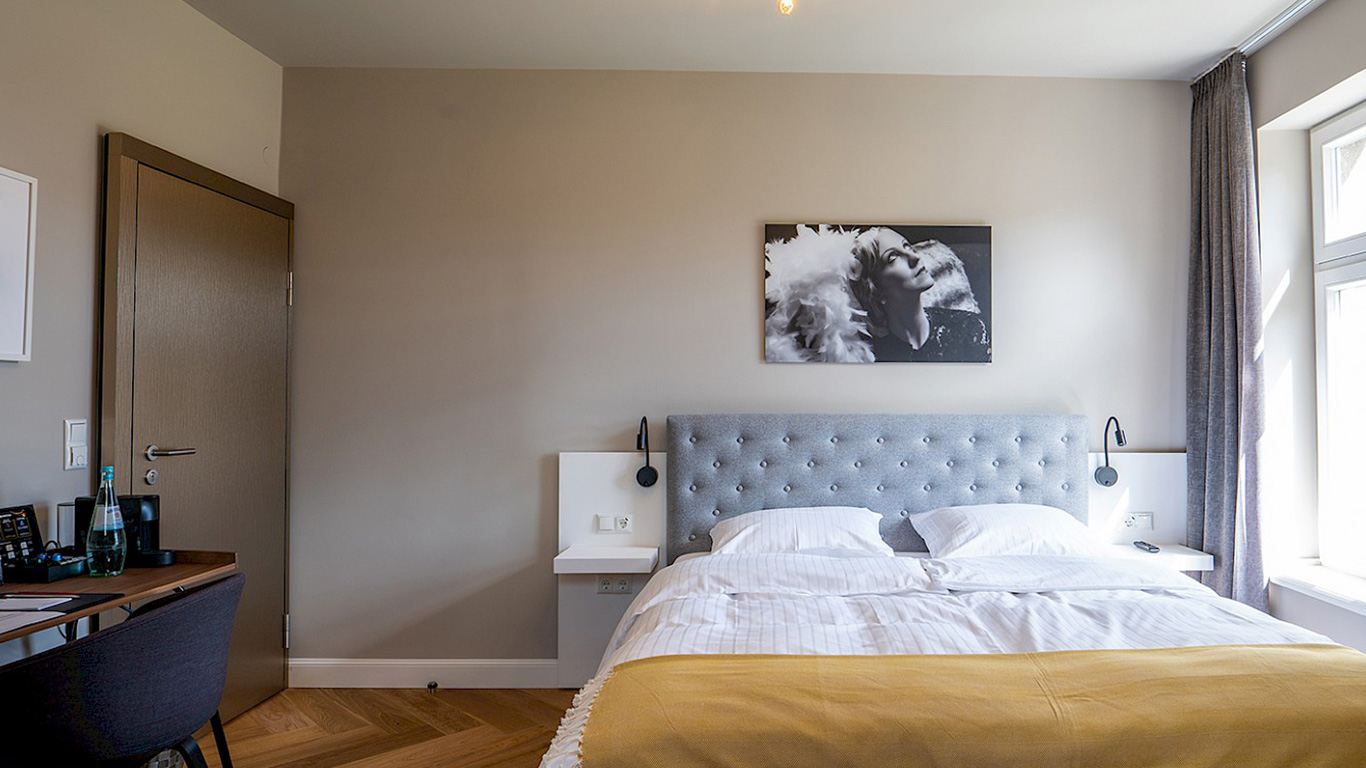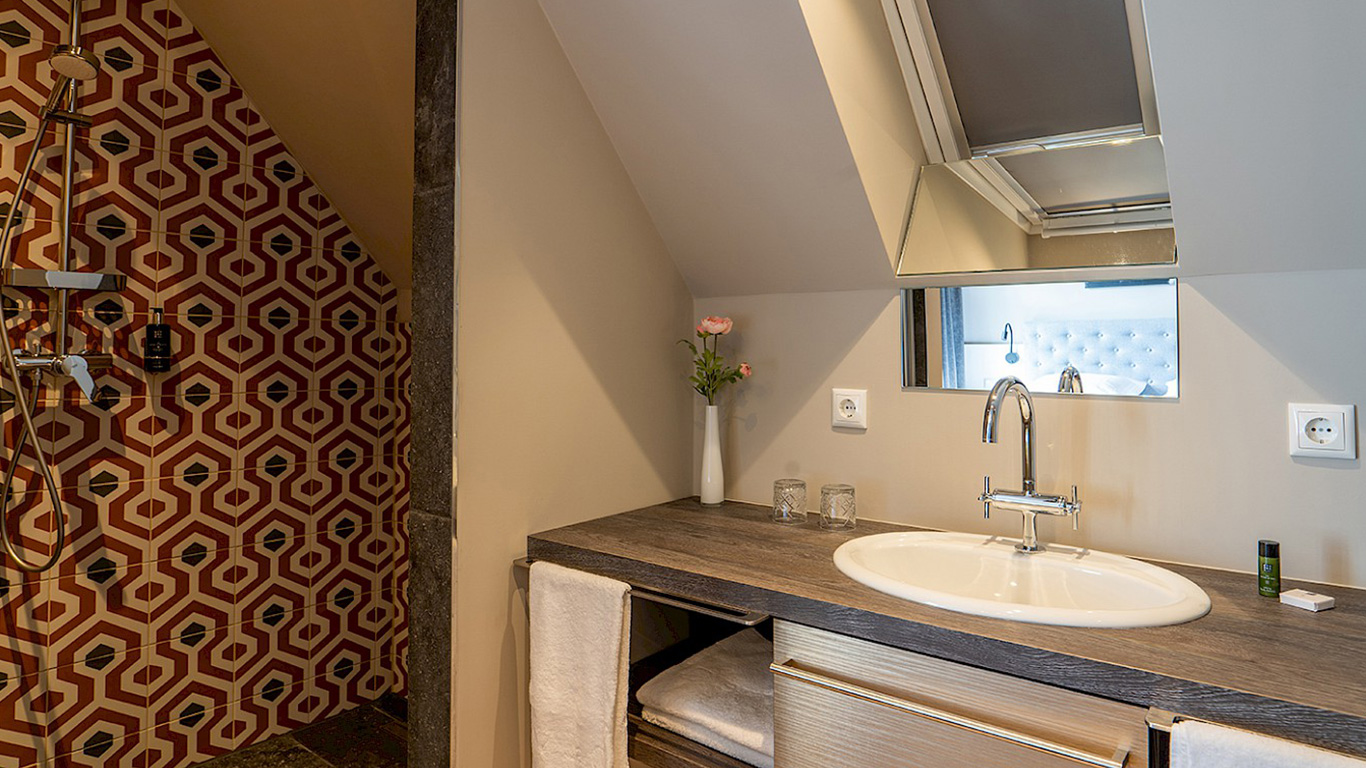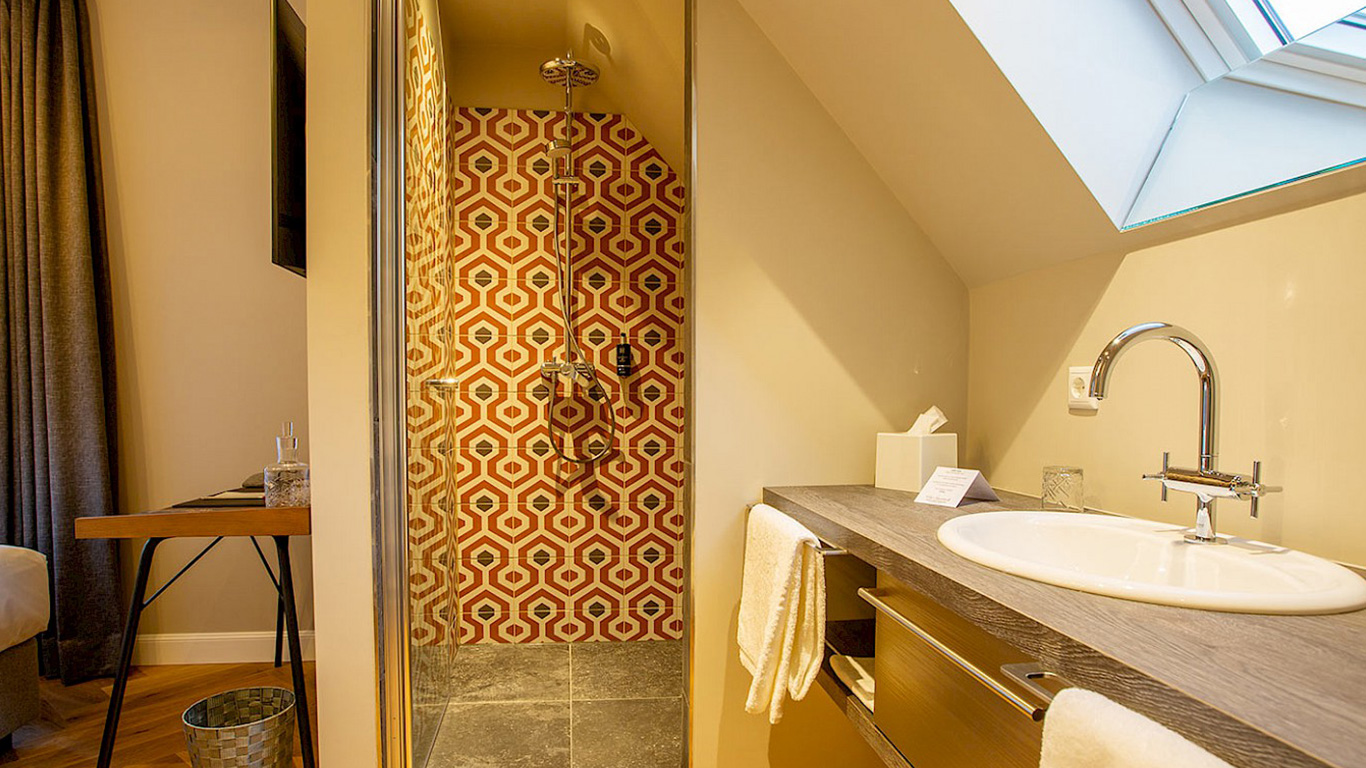 Junior Suite
Room 8 – our third junior suite has a 1.6 meter bed and a view to the garden. The open bathroom has a skylight window with a view into the greenery. The 'colourful' tiles integrated into the room create a comfortable feeling. A small highlight for music freaks is the BeoSound Century with cassette deck.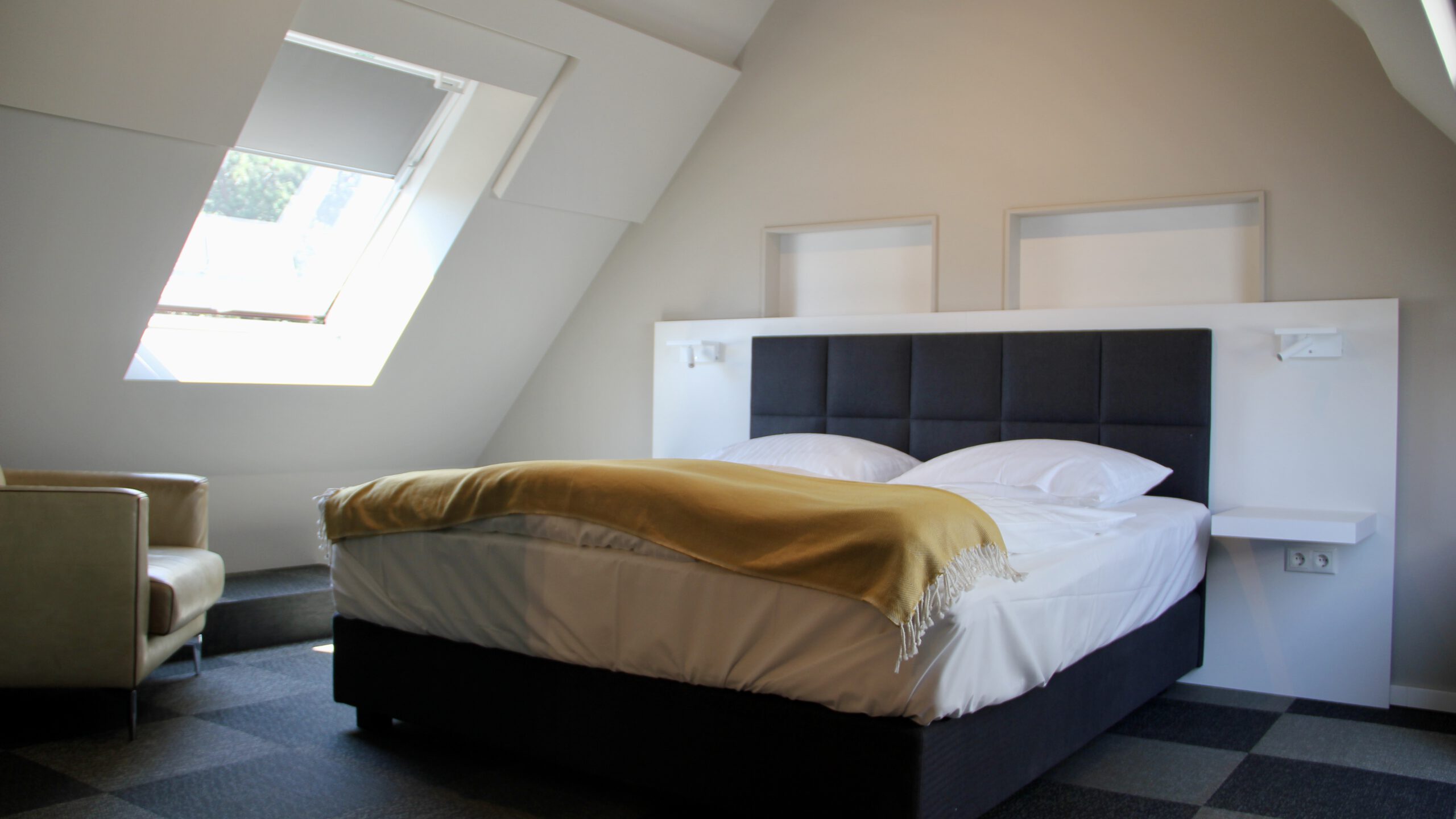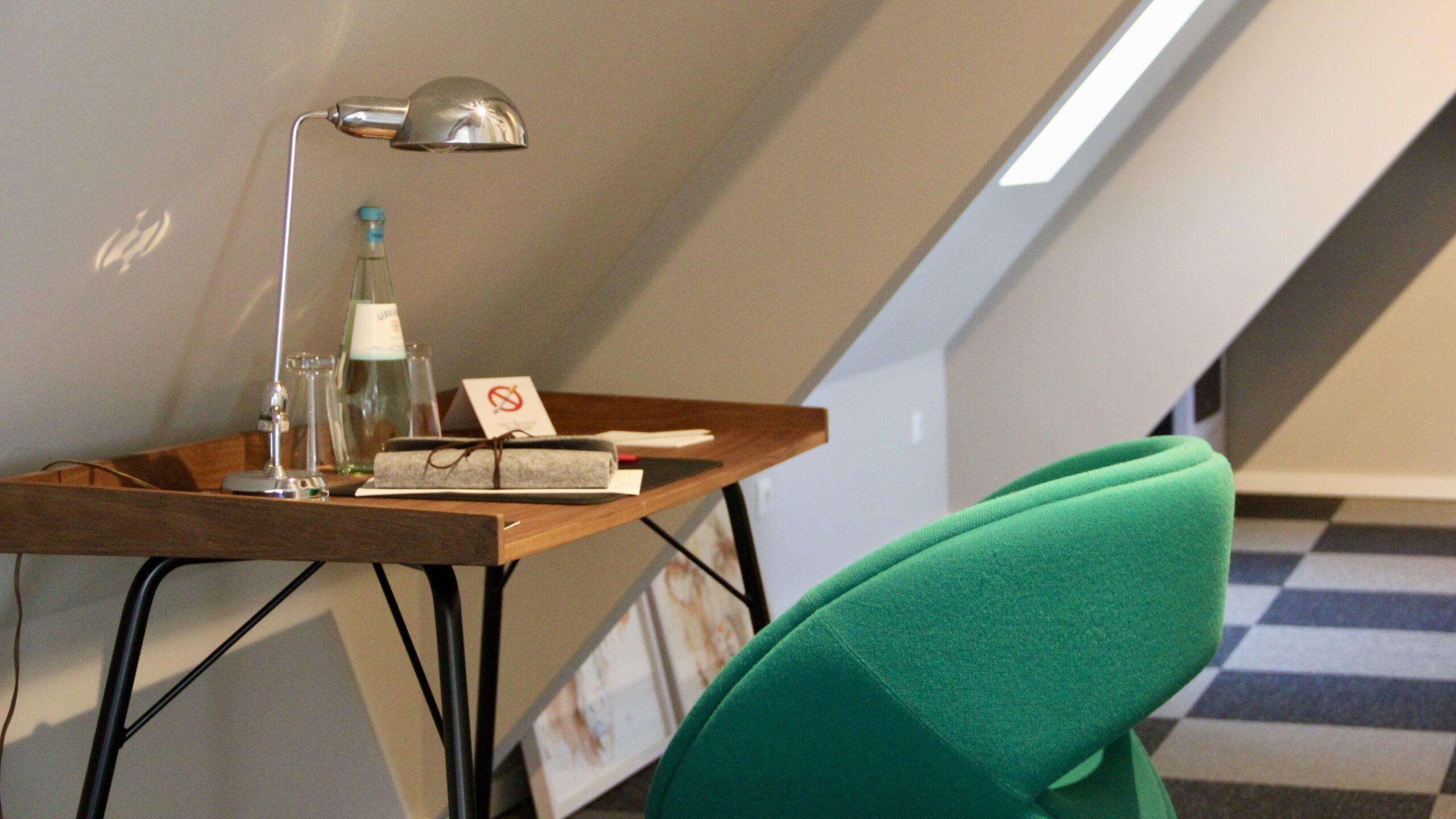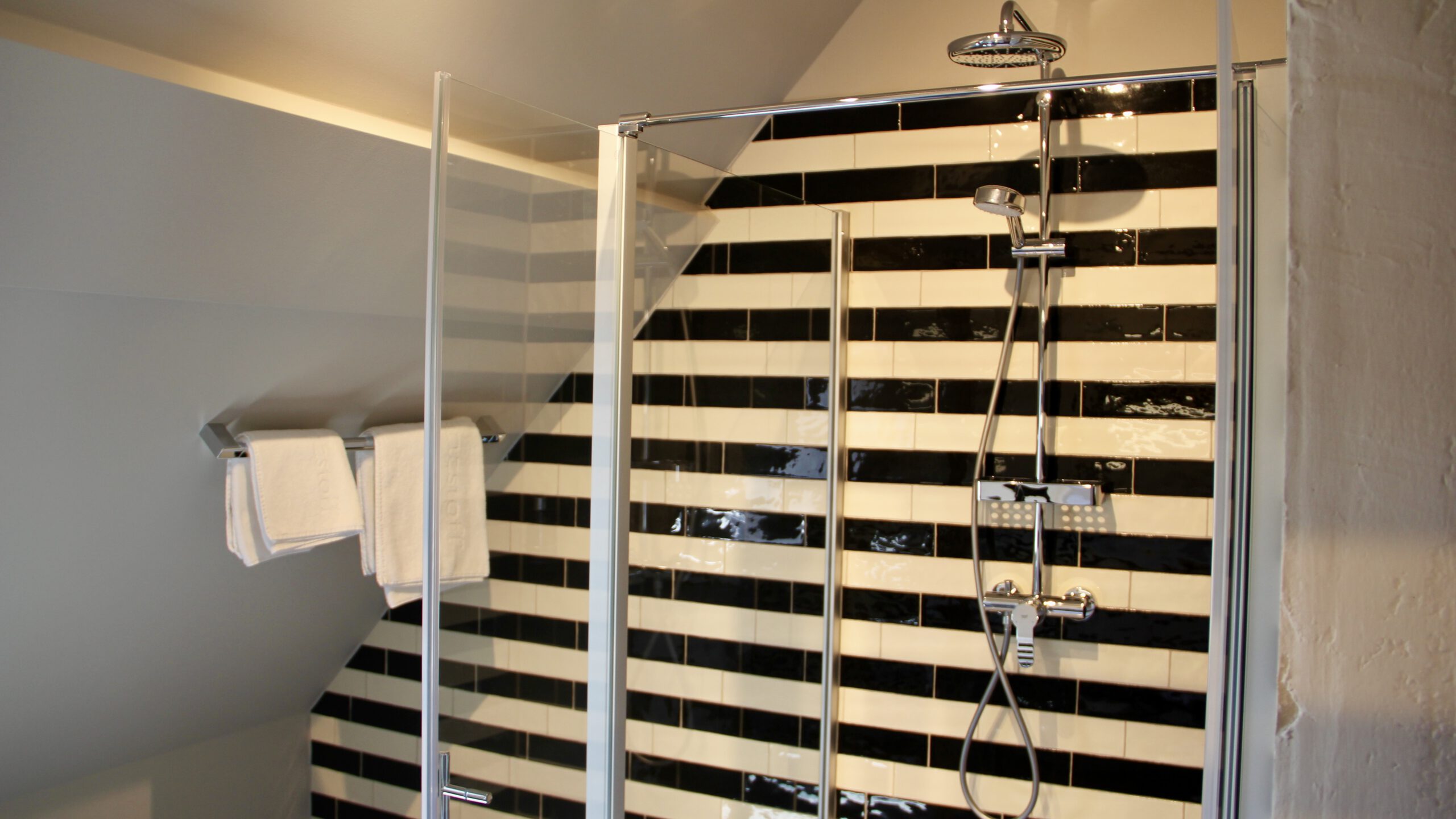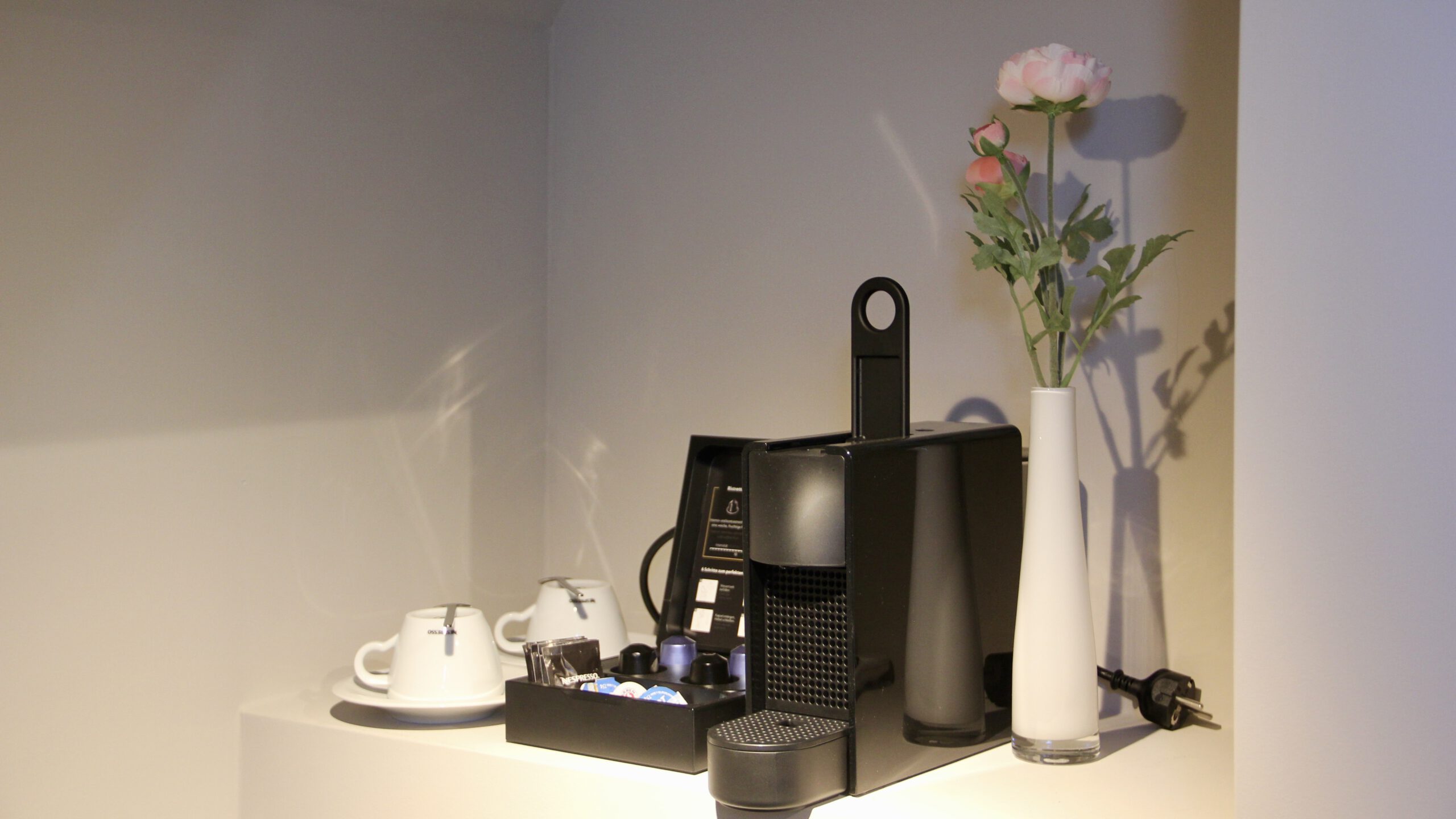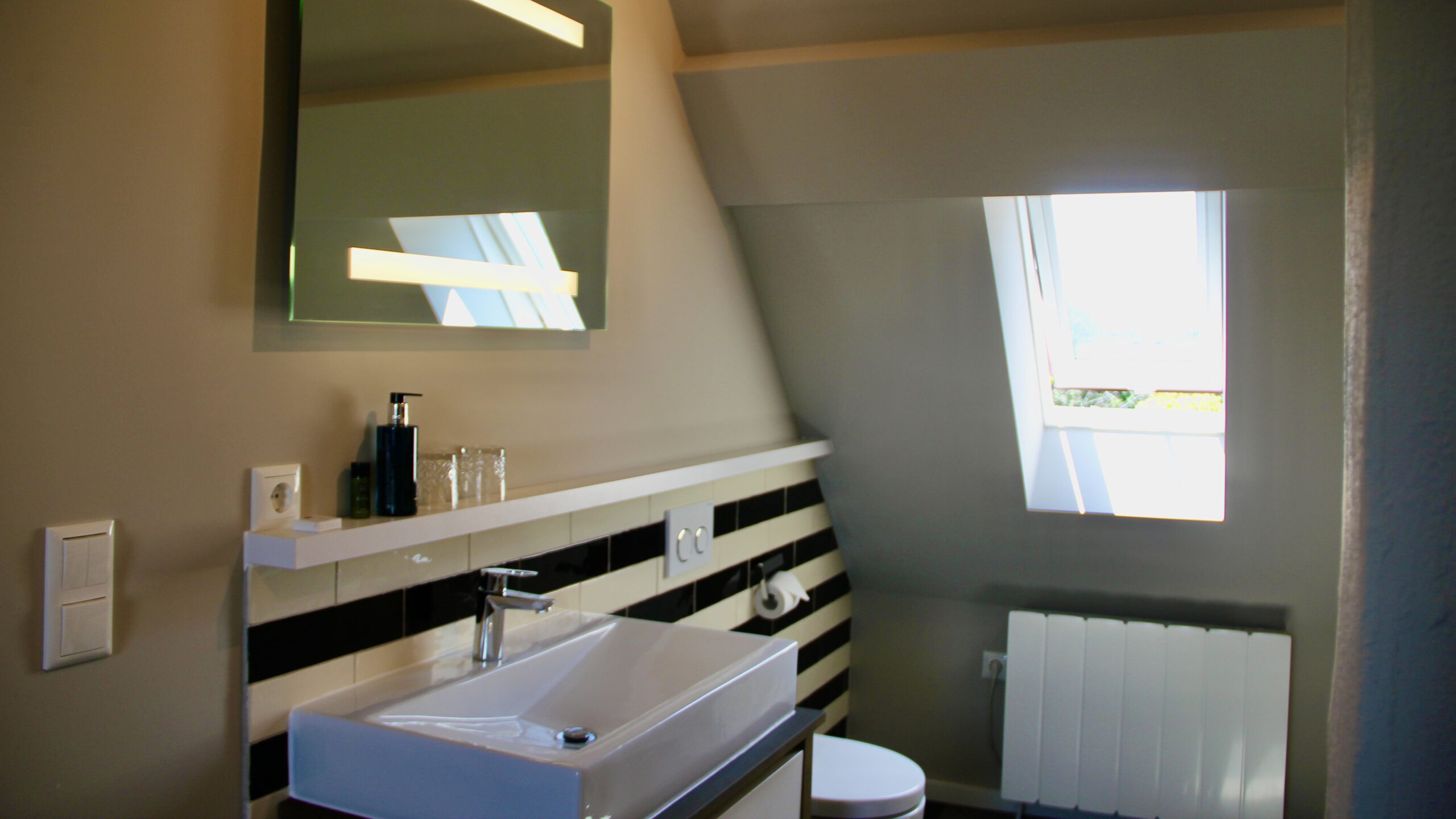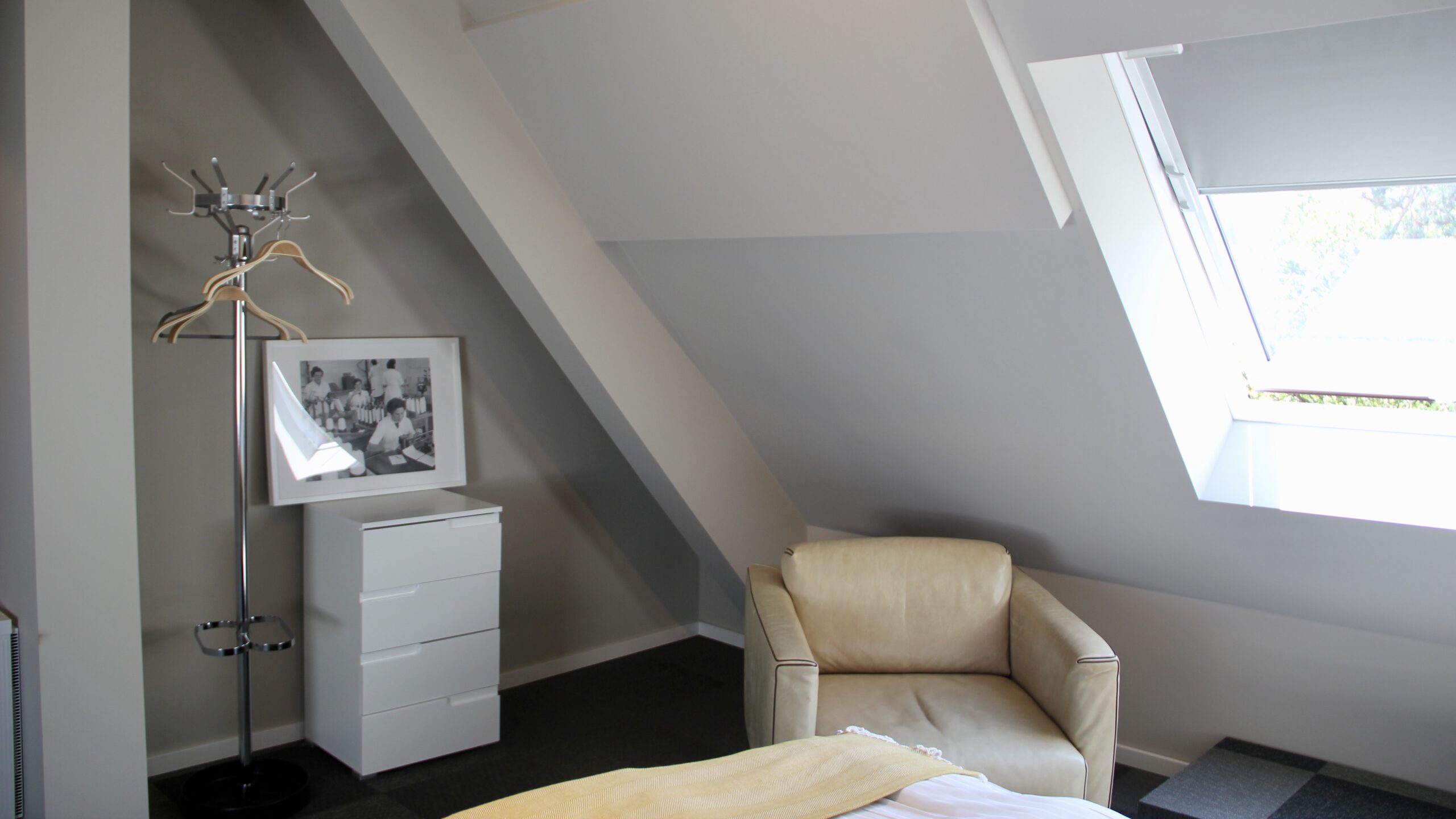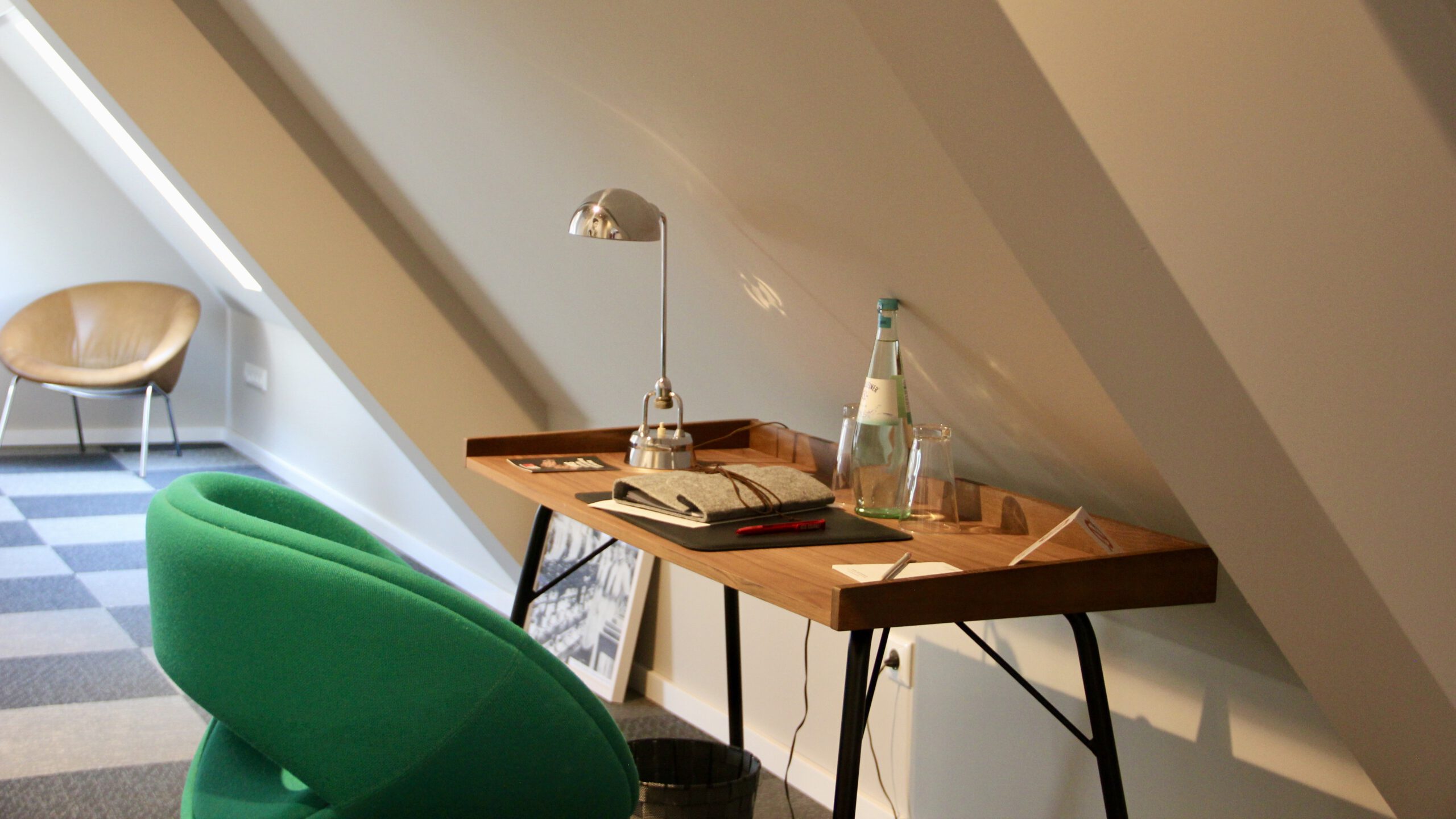 Deluxe Suite
Room 9 – our third deluxe suite. It extends over the entire attic floor and has skylight windows in all directions. The windows are all fitted with blackout blinds so that you can sleep in peace. The exposed beams create a division of the suite. Although all areas – including the bathroom – are open, individual niches are created to provide space for living, working or sleeping. It is the only room with an extraordinary carpet in a kind of checkerboard look.
If you have any preferences or wishes that fit especially to one of the rooms, please let us know and we will try to fulfill them!